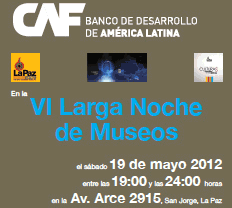 CAF offers art for everyone
May 16, 2012
On May 19 - from 7 pm to midnight - the sixth Long Night of Museums event will be held with the financial institution participating for the third year running.
A performance by the Music Teachers orchestra; the Paraguay Rapé international exhibition of videos and photographs; the Río Adentro video-instalation, and a traveling culture bus, are the options offered by the Latin American financial institution to all the people of La Paz.
92 cultural centers will open their doors to the La Paz public with a wide range of opportunities for enjoying art.
(La Paz, May 16, 2012). - CAF- development bank of Latin America - is preparing to participate for the third year running in the Long Night of Museums, cultural activity organized by the Cultural Office of the La Paz City Government (GAMLP) to be held Saturday May 19 with the aim of promoting cultural expressions and preserving the city's artistic heritage.
CAF - at Avenida Arce No. 2019 (San Jorge) - has arranged several art exhibitions for this year's event which reflect the cultural diversity of the country and Latin America.
From 7 pm through midnight, visitors will be able to enjoy PARAGUAY RAPÉ - Camino Paraguayo performed by Argentine-Paraguayan artists, Matilde Marín and Luna Paiva, and Paraguayans Joaquín Sánchez and Ángel Yegros. The show offers videos, objects and photographs of high aesthetic value which reflect the historical relationship between Paraguay and Argentina.
Andres Bedoya, a young Bolivian artist, will present an installation of artistic videos and projections of the Choqueyapu river, entitled Rio Adentro.
Twenty musicians from the Music Teachers Foundation will delight the public with a collection of Bolivian music in two performances to be held at 6 pm and 9 pm.
To help the public reach the CAF facilities, a touring bus will operate as a mobile exhibition of photographs of the development bank's many activities in Bolivia. The bus will take visitors along streets and avenues in Sopocachi and the Old Town of La Paz.
The bus will also be a mobile cultural center where artists and musicians accompany passengers in the role of well known La Paz characters - a storyteller and theatrical and musical performances by a chola, a kusillo, the ekeko, an archangel arquebusier and an old lady.
CAF's participation in the Long Night of Museums is part of its support for promoting cultural development, enhancing cultural heritage and encouraging the participation of the public in the artistic events held in the city.