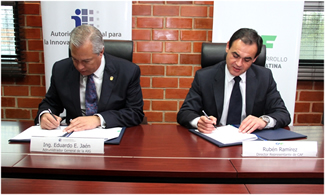 Competitiveness in Panama gets boost from CAF support
May 19, 2012
CAF and Panama's Government Innovation Authority sign agreement.
The development bank offers non-reimbursable funding for technological infrastructure improvement project to boost competitiveness in the country.
(Caracas, May 19, 2012). CAF –development bank of Latin America– will provide funding to Panama's Government Innovation Authority (AIG, by its Spanish acronym) under a technical cooperation agreement signed today, which the Panamanian agency will use for a competitiveness project.
The agreement was signed by CAF Country Director in Panama Rubén Ramírez; and AIG General Manager Eduardo Jaen, whose agency is in charge of the project, entitled Technical Infrastructure Improvement for Competitiveness.
During the signing ceremony, Mr. Ramírez said "within the framework of its comprehensive development agenda, CAF promotes Latin America's productive transformation, which is achieved through consistent increases in productivity and gains in competitiveness and institutional strengthening."
He said the resources approved for this project are intended to support the Panamanian government in its efforts to improve technological infrastructure, in order to optimize services offered to the public.
For his part, Mr. Jaén said "with this initiative, projects that are part of the Electronic Government Strategy, currently led by AIG, will offer high quality, reliable and timely service to every citizen, with personalized support and assistance.
"We are pleased to apply this type of strategy," Mr. Jaén said. "We are confident this decision will help position Panama on a global competitiveness platform as part of the task commissioned by the administration of President Ricardo Martinelli to improve citizens' quality of life."
The agreement will also include the state technical infrastructure network's security diagnosis, in order to add new operations to improve public administration.
The mission of CAF –development bank of Latin America– is to promote sustainable development and regional integration, by financing projects in the public and private sectors and providing technical cooperation and other specialized services. Established in 1970, it currently has 18 shareholder nations –16 in Latin America and the Caribbean, along with Spain and Portugal– and 14 private banks, and is a major source of multilateral financing as well as an important source of thought leadership in the region. More information at www.caf.com.
The National Authority for Government Innovation (AIG for its acronym in Spanish), was created through Law 65 of October 30, 2009. It is the Panamanian State's competent entity for planning, coordinating, issuing guidelines, overseeing, collaborating and promoting optimal use of information and communication technologies in the government sector for modernizing public management, as well as for recommending the adoption of national strategic policies, plans and actions related to the matter. AIG has legal entity, an independent capital structure and autonomy in its internal regime, capacity for entering into commitments and contracting obligations, to administer its assets and to manage its resources.