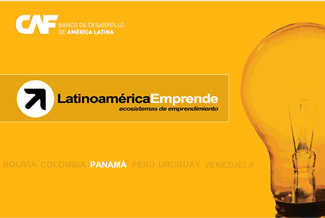 Entrepreneurship and innovation for development
May 22, 2012
CAF, City of Knowledge, UNCTAD and Ampyme organized the event Panama Entrepreneur: The role of public policy and innovation.
International speakers related the experiences of other countries and latitudes.
The Forum is part of a cycle organized by CAF in various Latin American cities.
(Caracas, May 22, 2012). ¡§Panama Entrepreneur: The role of public policy and innovation¡¨ was the theme of the forum attended by 300 people to talk about entrepreneurship and innovation for development. The event was organized by CAF - development bank of Latin America - with City of Knowledge, the United Nations Conference on Trade and Development (UNCTAD), Empretec Panama, and Ampyme (MSME Authority) as local partners.
The opening remarks were given by Jorge Arosemena, CEO of the City of Knowledge Foundation; Ruben Ramirez, CAF director representative in Panama; Mugione Fiorina,head of the Entrepreneurship Section, Investment and Enterprise Division, UNCTAD; and Giselle Burillo Sáiz, Panamanian Minister of Ampyme.
"This important event is part of a regional initiative to promote development of entrepreneurship in all its stages." CAF director representative Ruben Ramirez said. The institution, in the context of its integrated agenda for development, "stimulates the productive transformation of Latin America in an effort to create higher value added in production and exports and, in this respect, encourages innovation and entrepreneurship as tools for the liftoff to that destination."
With these activities CAF is promoting an agenda for strengthening entrepreneurial activity in each country by stimulating interaction between public, private and academic actors.
AMPYME Minister Giselle Burillo Saiz stressed the importance of entrepreneurship for developing the country, along with Ampyme¡¦s commitment to fostering entrepreneurship at all levels of society.
The CEO of the City of Knowledge Foundation, Jorge Arosemena, said his organization was an efficient platform on which this kind of forum can yield results. "The working groups, which generate public policy proposals on entrepreneurship and innovation in this forum taking place today in City of Knowledge, are an example of our vocation as a platform for generating knowledge through cooperation, synergies, productive dialogue and interaction." he said
Mugione Fiorina, head of the UNCTAD Entrepreneurship Section, said that to create new jobs, mobilize investment and stimulate business development, governments had to adopt a systemic approach to government."Business development should stimulate the creation of a growth-oriented business sector of small and medium enterprises. It can also facilitate structural transformation and industrial modernization. Foreign investment and development of local enterprises creates a virtuous circle of growth and development," he said.
The international speakers who related successful experiences in various countries were Hugo Kantis, Prodem Argentina; Inderjit Singh, Spring Singapore; Marco Kamiya, CAF; and Fiorina Mugione, UNCTAD.
For the first time since its launch in Qatar during UNCTAD XIII, the methodology of the UNCTAD Entrepreneurship Policy Framework was implemented in this forum.
More information on the Forum: http://eventos.caf.com/foro-emprendimiento/panama