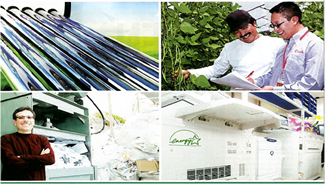 Environmental impact reduction through "green" credit lines
May 17, 2012
CAF approves funding for Banco ProCredit's innovative credit line called EcoCredit. EcoCredit will promote investments in renewable energy, energy efficiency and environmental impact mitigation
(Quito, May 2012).- EcoCredit, a new green credit line extended by Ecuador's Banco ProCredit, is the result of the technical cooperation agreement between CAF –development bank of Latin America– and the Ecuadorean bank signed in June 2011. The agreement's goals included institutional strengthening and improvements in environmental management tools at ProCredit.
EcoCredit targets businesses, with the aim of promoting the use of renewable energy, energy efficiency and mitigation of the environmental impact caused by a company's activities. This can be a way to reduce operational costs and create sustainable business opportunities.
CAF Country Director in Ecuador Hermann Krützfeldt said, "ProCredit is a strategic partner of CAF's, which is committed to promoting a more balanced, global and eco-friendly economy. By launching this credit facility, small and medium-sized enterprises in the country will be able to undertake sustainable and responsible initiatives."
ProCredit Bank plans to offer US$10 million in financing this year to micro and small enterprises that invest in the aforementioned areas. To introduce and manage this product the financial institution has created the Environmental Management Unit, which includes an area coordinator, an environmental specialist and an energy specialist, to which CAF contributed with financial and technical support.
Banco ProCredit General Manager Pedro Arriola lauded the cooperation with CAF. He added that EcoCredit and the Environmental Management Unit are part of an Environmental Management System implemented in 2011 under the bank's social responsibility principle –especially its environmental policy– whose goal is "to protect the environment and contribute to mitigating climate change."