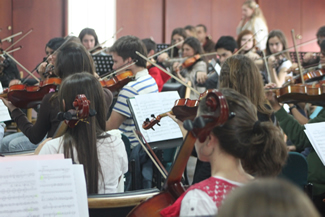 Joint support with Batuta Foundation for training in symphonic music for over 300 children and teenagers in Colombia
May 17, 2012
Workshops will be held in the cities of Bogota, Cali and Villa de Leyva until May 22
(Bogota, May 17, 2012).- As part of its Social Action through Music, CAF - development bank of Latin America - will support the training of over 300 children and young Colombians from different social levels through training workshops on violin, viola, cello and double bass.
The workshops, sponsored by the Latin American financial institution and the National Batuta Foundation, are offered to members of Bogota's Batuta Youth Symphony Orchestra, the Youth Symphony Orchestra of Valle del Cauca, and the Villa de Leyva School Orchestra. Prestigious Venezuelan teachers Samuel Parra, Jesús Sira, Obed Encinosa, Katiuska Yustiz and Evelio Barazarte will lead the training to be held until May 22.
"The activities of the CAF Social Action through Music Program have proved to be an excellent tool for social rescue through the music teaching, both choral and orchestral, accompanied by an education that enhances human values," Victor Traverso, CAF director representative in Colombia, said.
Juan Antonio Cuellar, chief executive of the National Batuta Foundation, said the Venezuelan teachers' visit "will improve the technical skills of the young people, strengthen their work routines and provide educational materials and new study methods. They will help prepare Bogota's Batuta Orchestra to perform Gorecki's 9th Symphony for the Colegio del Cuerpo (The Body School) at the Julio Mario Santo Domingo Theater later this month and will support the Del Valle Youth Symphony Orchestra with preparations for its European tour in late July."
The program is being implemented in Argentina, Bolivia, Brazil, Colombia, Ecuador, Panama, Paraguay, Peru, Uruguay and Venezuela, countries where 47,000 children and young people have received music classes, over 600 teachers have been trained, and over 1,620 instrumental, choral and lutherie workshops have been held.