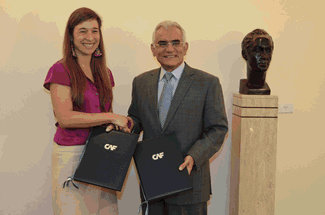 Mobile technology brings financial services closer to people
May 30, 2012
CAF and Banesco Community Banking signed an agreement to develop an application to bring banking services to popular sectors in Venezuela, using cellular mobile technology.
(Caracas, May 30, 2012). To increase access to banking by low-income segments in Venezuela through the use of technology, CAF- development bank of Latin America - and Banesco Banco Universal, through its Community Banking, signed a technical cooperation agreement.
The agreement was signed by Luis Enrique Berrizbeitia, vice president & deputy CEO of the financial institution, and Claudia Valladares, vice president of Banesco Community Banking.
"Improvement of banking access indexes, access by small and medium enterprises to credit, and financial inclusion of micro enterprises boost development by creating more employment and promoting social and financial inclusion, which improves the sustainability of the economies of the region," Berrizbeitia said.
Claudia Valladares said "with these funds, we plan to develop a mobile banking service for the non-banked. We expect our customers will soon be doing their banking through SMS. From any phone that has text messaging, customers will be able to make transactions such as consultations, transactions, payments for service, and others."
The project launched under the agreement was selected, along with 18 other projects, out of a total of 420 proposals from around the continent, as part of the first call for submission of ideas by the Technologies for Financial Inclusion Program (TEC-IN), a joint initiative of CAF, Multilateral Investment Fund (MIF), Inter-American Development Bank (IDB), and Global System for Mobile Communications Association (GSMA).
TEC-IN promotes financial inclusion, especially for the poorest and most excluded segments, through innovation and introduction of technology into microfinance.
The Financial Services through Cell Phones for the Non-banked project, supported by the agreement, aims to identify customer preferences for design of the service and its business model, integrate and reduce costs of service points, and extend the reach of financial services, making transactions cheaper through use of mobile telephony.
The project is expected to reach over 23 000 users of the BCB mobile banking channel, achieve efficiency savings of 40% in bars and service points, and give over 7,000 new customers in the lower income segments access to the formal financial system.