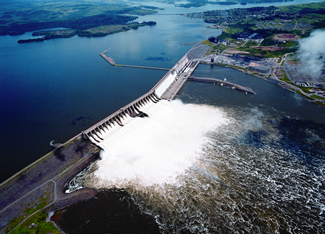 Study to identify hydroelectric potential of Sao Paulo, Brazil
May 15, 2012
The state governor and CAF director representative in Brazil signed an agreement covering grants for research in this area.
(Sao Paulo, May 15, 2012).- To promote the efficient use of energy from clean sources Moira Paz Estenssoro, director representative in Brazil of CAF - development bank of Latin America, and Geraldo Alckmin, governor of Sao Paulo state, signed an agreement to provide non-reimbursable funds for research to evaluate hydroelectric potential at the level of small and mini plants in this state in southeastern Brazil.
"The study - the CAF director representative said – will determine the potential of each point of the state's hydrographic network and identify projects to be developed by the public and private sectors."
The CAF executive said the results would offer the state government useful information for policymaking in the energy sector "because it will report on the hydroelectric potential currently exploited, the remainder to be exploited and the potential for future use, as well as viable projects."
Sao Paulo state has abundant energy resources, most importantly hydroelectric which is developed in small and medium plants. The research will focus on promoting mini-plants.
The advantages of this type of plant are that it is an economic alternative with minimal environmental impact for communities and minimal transmission costs. In addition the communities control their energy resources themselves.