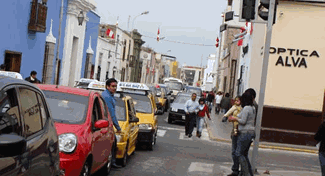 Support for study of an Integrated Urban Transportation in Trujillo
May 16, 2012
Technical cooperation agreement signed with Trujillo Municipality to improve mobility in the city
The aim is to improve urban transport and the quality of life of the inhabitants of one of the country's major cities.
(Trujillo, 16 May 2012.) – CAF - development bank of Latin America,- today signed with Trujillo Municipality a technical cooperation agreement under which the multilateral financial institution will assist the northern Peruvian city with the design of an Integrated Urban Transport System.
The document was signed by CAF representative in Peru Eleonora Silva Pardo and Trujillo Provincial Mayor Cesar Acuña Peralta.
Recalling that CAF's aim is to build local institutional and management capacity, the CAF executive said that implementing the study was vitally important because of its impact on the city, especially on improving urban transport and the quality of life in one of Peru's main cities.
The signing was part of CAF's objective of giving decided backing to the decentralization process begun in Peru, as well as supporting local governments in their effort to effectively carry out their responsibilities, she added.
"CAF is the main source of financing for infrastructure projects in Latin America, focusing on citizen wellbeing and respect for the environment. We welcome the signing of this agreement with Trujillo Municipality since it will tackle urban mobility and road safety, which are some of the main problems of the sector," Silva Pardo said.
Mayor César Acuña Peralta said the signing was a decisive historical step, of vital importance for the city of Trujillo.
"The progressive implementation of a new integrated mass transit system, which the Municipality has been working on, the technological modernization of our traffic light network, opening routes to link the three ring roads are major overall components of the municipal action on mobility," the mayor said.
He added that by planning and executing works to improve mobility in the city, "we are giving quality of life to our citizens and new generations in Trujillo because continuous and sustained improvement in mobility in the city has positive effects on the economy, labor and education.