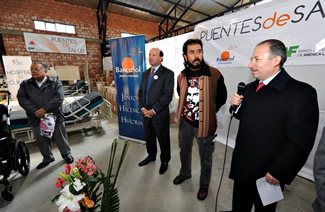 Banco Sol, CAF and the Ministry of Health hand over medical equipment and supplies to three hospitals in La Paz
June 13, 2012
Major hospitals receive a donation to support care of over 250 000 patients annually.
(La Paz, June 13, 2012).- The Children's Hospital, Maternity Hospital and Hospital de Clinicas today received a donation of a substantial amount of equipment and medical supplies valued at USD 300,000 (market value). The contribution was made possible by the partnership between Banco Sol, CAF - development bank of Latin America - and the Ministry of Health and Sports.
The donated equipment and supplies, which will enhance the quality of care of over 250,000 patients per year, include X-ray equipment, electric beds, mattresses, examination tables, stretchers, electric cranes, pacemakers, surgical instruments and wheelchairs.
During the ceremony, Kurt Koenigsfest, general manager of Banco Sol, said "this donation of medical equipment and supplies reaffirms our commitment to serve the underprivileged and the community to which we belong."
Emilio Uquillas, CAF director representative in Bolivia, said the development bank's integrated development strategy aims to promote social inclusion which, in this case, is reflected in opening access to improved health technology for those in most need. "So today we are very pleased to hand over the materials and equipment to three public hospitals of such importance to La Paz."
Health Ministry officials and directors of the three hospitals said the donation would renew some of the old equipment used in the hospitals, and the supplies would greatly help in the daily work of medical staff since it is essential material for patient care.
The Children's Hospital provides care each year to 58 000 patients, the Hospital de Clinicas 70,000 and Maternity to 117,000 in outpatient and emergency.
The equipment and supplies were handed over by a donors committee to the directors of the three hospitals at a ceremony held in the Achocalla area for distribution to each hospital.