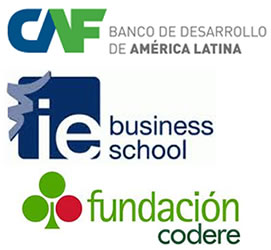 Bogota, venue for award ceremony of the 2nd IE Business School Prize for Ibero-American Economic Journalism
June 22, 2012
The gala awards ceremony will be held on June 27 at 7 pm in the JW Marriot Hotel. Bogota,
This is the second year of the most important economic journalism competition in America; the first was held last year in Mexico City.
The awards ceremony will be attended by high level representatives of government, finance, CAF, IE Business School, CODERE Foundation, and prestigious journalists
A group of Latin American journalists from Argentina, Brazil, Peru, Costa Rica, Mexico and Spain will also be present.
At the ceremony seven prizes of 13,000 euros (approx USD17,000)will be presented with sculptures by Spanish artist Miguel Panadero.
The gala event will be hosted by Gabriela Frias, presenter of CNN Money.
The Prize is sponsored by CAF - development bank of Latin America - and Codere Foundation.
(Madrid, June 22, 2012).- The awards ceremony of the second IE BUSINESS SCHOOL PRIZE FOR IBERO-AMERICAN ECONOMIC JOURNALISM will be held on June 27 at the JW Marriott Hotel Bogota. This year 300 entries of the highest quality were received.
The ceremony will be attended by the Colombian minister of Finance, Juan Carlos Echeverry; president of the Colombian Stock Exchange, Juan Pablo Cordoba; vice president of CAF, development bank of Latin America, Luis Enrique Berrizbeitia; dean of IE Business School and president of IE University, Santiago Iniguez; director of El Tiempo, Roberto Pombo; director of the Portafolio business daily, Ricardo Avila; and executive vice president of CODERE Foundation, José Ignacio Cases. Economic journalists from across the continent will be present at the event together with the first year's winners.
Following the success of the first event which ended with an awards ceremony in Mexico City, this year's IE Business School Ibero-American Economic Journalism Prize has exceeded the number of entries and level of participation of 2011, becoming the prize with highest participation and recognition in Latin America in the field of business journalism.
Seven winners in 2012
"Conquering the Base of the Pyramid" published in EL CRONISTA newspaper by Argentine journalist Maria Gabriela Ensinck won the award for 'Best Article in the Daily Press Category'. 'Best Article in the Non-Daily Press Category' goes to "O pais das start-ups" by journalist Bruno Gallo published in ISTOÉ DINHEIRO magazine of Brazil.
The jury also gave honorable mentions and second prizes for the works "A nova economía das favelas" by economic journalists Miriam Leitão and Valeria Maniero published in O Globo Brazilian newspaper, and "Weaving through a road full of stones" by journalist Ana Cristina Camacho, published in El Financiero of Costa Rica, in the categories of daily and non-daily newspapers, respectively.
The jury for the second Journalism Prize is formed by executives of the organizing bodies of the award: IE BUSINESS SCHOOL, CAF and CODERE FOUNDATION, along with personalities from the world of journalism and communications including Clarin, CNN, Wall Street Journal, GDA and Miami Herald, with companies such as IBERIA and GOOGLE and the OAS among regional institutions
The second ECONOMIC JOURNALISM PRIZE also recognizes two media outlets for their work in promoting economic and entrepreneurial culture in Latin America: EL COMERCIO of Peru in the daily newspaper category for development of a general daily, and the REVISTA ENTREPRENEUR of Mexico for continuing promotion of entrepreneurship and commitment to economic and social projects and innovators.
The second prize of the Codere Foundation goes to journalist Kathy Garcia of the La República daily of Colombia for her article "Chic Experience, gambling on luxury tourism in Bogota and Cartagena" published on February 21, 2012.
Over 310 articles, reports, interviews and other information formats from over 180 media outlets in the region signed by 145 financial journalists participated.
About IE BUSINESS SCHOOL
IE Business School shapes leaders who promote innovation and change in organizations, and manager entrepreneurs who create jobs, wealth and social wellbeing. Recognized as one of the leading global business schools, IE has an urban campus in Madrid with a faculty of over 450 teachers and students from 91 countries in the master, doctoral and executive education programs.
IE Business School was recently recognized by The Financial Times as the school with the world's 8th best MBA and 3rd in Europe. Other rankings from The Wall Street Journal, Forbes, The Economist and América Economía have consistently placed the school in the world's top 10 business schools.
IE students use innovative online and face-to-face learning methodologies, and benefit from the school's network of communities with 42,000 graduates in positions of responsibility in over 106 countries.
About CODERE FOUNDATION and CODERE
CODERE Foundation is a non-profit organization set up to structure and coordinate research, analysis, evaluation, policy development and evolution of the gaming industry.
CODERE is a Spanish company, leader in the private gaming sector in Europe and Latin America, which manages over 57,000 gaming machines, 190 gaming halls, 798 betting points, participates in management of three racetracks in Argentina, Brazil, Colombia, Spain, Italy, Mexico, Panama and Uruguay, and develops online gaming in Italy.