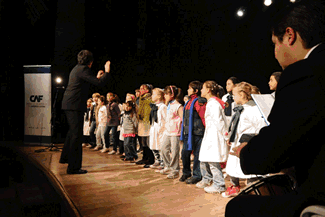 CAF supports training of children and youth orchestras
June 11, 2012
The Social Action through Music Program (PASM, by its Spanish acronym) organized orchestra workshops for children and youth in Montevideo, with support from CAF Uruguay's Children and Youth Orchestras Foundation, with over 700 members aged 4-14 and expecting to exceed 1,000 members in 2012, has made significant progress thanks to a strategic partnership with CAF since 2011.
(Montevideo, June 11, 2012).- With support from CAF –development bank of Latin America– the Social Action Music Program (PASM, by its Spanish acronym) organized in Montevideo the 4th workshop entitled VLAC, the acronym for "Voces Latinas a Coro," or "Latin Voices in Chorus."
The workshops were led by Venezuelan instructors Luimar Arismendi and Zaira Castro, who worked with groups from Uruguay's Choral School, Uruguay's Children and Youth Orchestras System Foundation, the choirs of Núcleo SA.CU.DE (Centro Salud – Cultura y Deporte), Núcleo Flor de Maroñas, the Ayre Youth Chorus and the Coral Quantum group.
The workshops are the fruit of a strategic partnership signed by CAF and Uruguay's Children and Youth Orchestras System Foundation in 2011, which has led to major progress in the foundation's goals, which now counts 700 members between the ages of and 14, and expects to surpass a membership of 1,000 in 2012.
"It is with great pride that we were able to complete a new educational and integration project," said CAF Country Director in Uruguay Gladis Genua. "Each activity surprises us with this youth orchestra's growth, and we are very pleased to know that the Social Action Music Program is a fundamental part to attain this continuous successes as it offers the opportunity to develop intellectual, physical and spiritual abilities to socially vulnerable Latin American children and youth."
Ms. Genua added that "the benefits are not limited to children and youth, but they also include their families and circles, helping to change family and community interaction patterns as well as to encourage musical sensitivity, in particular, as well as human sensitivity in general."
For his part, Ariel Britos, Uruguay's Children and Youth Orchestras System Foundation president as well as the orchestra's director, said the Latin American financial institution's support is fundamental for these achievements. "CAF's backing allows us unparalleled qualitative and quantitative development, enabling us to add successful methodologies from other countries and invite international teachers," Mr. Britos said. "Besides, it gives the program a lot of visibility, becoming an excellent introduction letter to obtain institutional support that will allow us to expand our reach."
With the goal of promoting music as a development and growth tool, in 2008 the Foundation created the Uruguay Choral School led by Maestro Víctor Mederos, who said this institution "offers training in vocal techniques, music reading and writing, as well as contributing to intellectual, emotional, social and moral development of children who participate in it." He said "these contributions are maximized if you consider that many of them come from Uruguay's most underprivileged social groups."
The workshops were held on June 4-9. The activities concluded with three concerts, in Montevideo's Ateneo, the SA.CU.DE. Center and the Florencio Sánchez Theater, all of them with free entrance.
The Social Action Music Program has three components: orchestral training, choral training and luthier workshops. As part of the program, Venezuelan musician Francisco Flores, a trumpet soloist, visited Uruguay to dictate a one-week course to the members of José Artigas Youth Orchestra, affiliated with the country's Radio Service. The training program finished with two concerts, one in Montevideo's Adela Reta National Auditorium, conducted by French Maestro Sylvain Gasancon, and another one in Sarandí Grande, the first time an international conductor performed in this city.