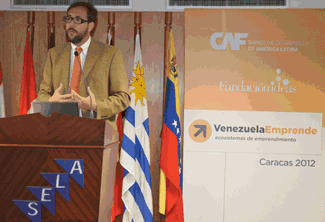 June 07, 2012
CAF and the Ideas Foundation organized the forum Enterprising Venezuela: Entrepreneurship Ecosystems.
Local and international panelists presented successful cases.
The forum is part of a series organized by CAF in several Latin American cities.
(Caracas, June 7, 2012). As part of a series of forums to promote entrepreneurship and innovation in the region, CAF –development bank of Latin America– and the Ideas Foundation jointly organized Caracas
Enterprising Venezuela: Entrepreneurship Ecosystems.
The forum was opened by SELA-PYME Program Director Juan Acuña, CAF Public Policy and Competitiveness Director Michael Penfold and Ideas Foundation Head Manager María Luisa Parra.
"Enterprising Venezuela is part of a regional initiative organized by CAF with the goal of encouraging entrepreneurship development in all of its stages," Penfold said.
With these initiatives, Penfold said, the Latin American bank is pursuing "an agenda that strengthens the entrepreneurial activity in every country, promoting the interaction among public, private and academia actors."
In her remarks, Parra said this was a timely initiative to boost entrepreneurship efforts and innovation as the most viable option for development and the public's wellbeing in Venezuela.
At the forum, Venezuelan and overseas speakers discussed local and international entrepreneurship cases. In addition to Parra, panelists included Mexico's Monterrey Technological Parks' Director José Manuel Aguirre; Venezuela's IESA Entrepreneurship Center Director Nunzia Auletta; Colombian Industry and Trade Ministry Entrepreneurship Director Sergio Zuluaga, and CAF Head Regional Executive Marco Kamiya.
As part of its comprehensive development agenda, CAF seeks to generate higher added value in Latin America's production and exports, as well as to promote innovation and entrepreneurship as means for that goal.
The Ideas Foundation seeks to promote entrepreneurship in Venezuela through training and advisory services, educational programs –including online courses– as well promoting links with the industrial and financial sectors.
The Caracas forum was part of a series on international entrepreneurship cases that CAF has held in Bolivia, Colombia, Panama, Peru, Uruguay and Venezuela.
For more information on the forum, please visit: http://eventos.caf.com/foro-emprendimiento/venezuela