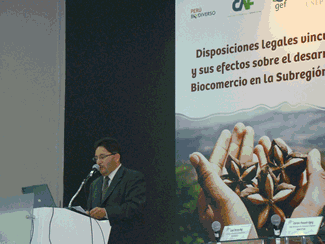 Meeting to stimulate bio-trade development in the Andean subregion
June 11, 2012
International experts analyzed access to genetic and biological resources, use of traditional knowledge, and fair and equitable sharing of benefits
The event was opened by Deputy Foreign Trade Minister Carlos Posada, representatives of Promperú and the GEF-CAF BioTrade Regional Project.
Lima, June 11, 2012. - To identify the most urgent needs for stimulating bio-trade in the Andean countries was the main objective of the seminar "Binding legal provisions and their effects on the development of Bio-trade in the Andean Sub Region" organized by CAF, development bank of Latin America, and the Peruvian Commission for Promotion of Exports and Tourism - PROMPERU, the executing unit of the GEF-CAF project.
The event was opened by Carlos Posada, deputy foreign trade minister; Luis Torres, director of PROMPERU Exports; and René Gómez-García, chief executive of CAF Environment.
The meeting was also attended by representatives of the ministries of Environment, Foreign Trade and Tourism, Economy and Finance, and Culture, along with intellectual property, natural resources management, and health authorities, among others.
The experts and project partners from Colombia and Ecuador were accompanied by members of Andean parliaments, representatives of international cooperation, along with entrepreneurs, executives from trade groupings, and academics.
The seminar provided a forum where experts in bio-trade analyzed the legislation that regulates access to genetic and biological resources, use of traditional knowledge, and fair and equitable sharing of the benefits created by their use.
The event was part of the project:"Facilitating financing for biodiversity businesses and support for development of activities of the market in the Andean Region."
Exports
According to PROMPERU, the main biodiversity exports are tare, quinoa, Brazil nuts, maca, white maize and achiote.
The markets where demand for Peruvian products from this sector has been heaviest this year and last are the United States, followed by China, Italy, Spain and Germany.
Peruvian exports of quinoa alone grew 92% in 2011 and this figure is expected to increase in the next few years because the UN has declared 2013 International Year of Quinoa.