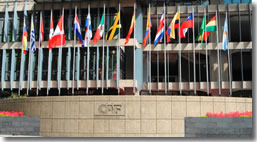 Moody's upgrades CAF rating to Aa3 in the midst of the financial crisis
June 29, 2012
The announcement confirms the institution as the frequent issuer in Latin America with the best risk rating.
The US rating agency underlined the backing from CAF shareholder countries.
(Caracas, June 29, 2012). – CAF - development bank of Latin America - today received new recognition from the US rating agency Moody's Investors Service with an upgrade from A1 to Aa3.
"The higher rating is an endorsement of CAF's financial management," Enrique García, president & CEO of the Latin American institution, said.
García said the decision "is especially relevant in the present circumstances of global economic uncertainty and confirms the institution's position as the Latin American frequent issuer with the best risk rating."
Moody's decision is based on the support of CAF shareholders throughout the history of the institution. The agency highlighted the substantial expansion of the shareholder base and continuous improvement of financial indicators.
The CAF CEO reaffirmed the organization's commitment to all its shareholders, and the permanent support received from member countries, resulting in regular capital increases and full compliance with all financial obligations.
With the entry of new members in recent years- currently 18 shareholder countries - and the recent shareholder capitalizations, CAF has taken on a new dimension which will generate total approvals of USD75 billion in favor of Latin American development during the 2012-2017 period.
CAF currently has four ratings granted by the most prestigious international rating agencies: Moody's (Aa3), Japan Credit Rating (AA-), Standard & Poor's (A + with positive outlook), and Fitch (A+).