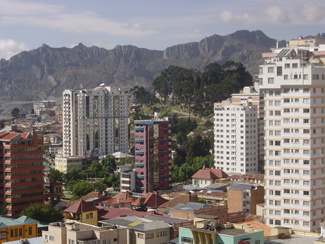 Partnership for the health of Bolivians
June 08, 2012
BancoSol, CAF and the Ministry of Health will donate medical equipment and supplies to hospitals that provide care to over 245,000 patients a year. The three institutions will deliver a substantial donation to three public hospitals in La Paz over the next few days.
(La Paz, June 8, 2012).- As part of a partnership to help care for the health of thousands of Bolivians, CAF - bank development of Latin America -, BancoSol and the Ministry of Health handed over, on June 13, a donation of medical equipment and supplies to the Children's Hospital, Hospital de Clinicas, and the Maternity Hospital in La Paz.
Kurt Koenigsfest, CEO of BancoSol, said that through its Social Capital Unit and its Donasol project, his bank aimed to give tangible support to disadvantaged sections of the country."The tasks of social responsibility are part of the nature of BancoSol's life, so we have worked hard to make the donation of medical equipment possible."
Emilio Uquillas, CAF director representative in Bolivia, said "the donation is a sign that unity is strength in favor of a good cause; especially when a partnership is activated between a private company, a multilateral financial institution and the State to improve the health of thousands of patients of all ages."
Medical Bridges
BancoSol, CAF and the Ministry of Health created a partnership to equip three major hospitals, coordinating the donation of medical supplies with Medical Bridges, a non-profit organization based in Houston, Texas (USA).
The organization recovers medical supplies in excellent condition and redistributes them to hospitals, clinics and care centers in low-income countries. The equipment is delivered to the sponsors of the donation in the United States so they can handle transportation and complete freight and customs processes, as well as the legal procedures required in each country.
"Our organization is very pleased to help with donation of medical supplies and equipment, and hopes they will be put to good use and contribute to preserving the health of people in need in Bolivia," Steven L. Bolfing, business development manager at Medical Bridges, said.