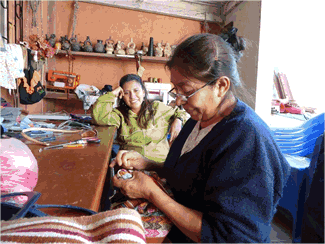 Promoting competitiveness, entrepreneurship and inclusion in Peru
June 06, 2012
The Latin American financial institution signed an agreement with Instituto Invertir to support the Enterprise Now Program and Business Plan Competition
(Lima, June 2012.) - To promote competitiveness, entrepreneurship and inclusion in the region, CAF - development bank of Latin America - signed an agreement with Instituto Invertir to partially finance the Enterprise Now (Emprende Ahora) Program, and support the sixth annual Business Plan Competition (Business in Development Challenge 2012).
The Enterprise Now Program offers scholarships to outstanding students from the provinces for training in entrepreneurship, democracy and market economy, while the Business Plan Competition identifies business plans and projects with high growth potential and capital needs, and links them to potential investors through the virtual platform of the Business in Development Network.
The agreement was signed by Daniel Córdova, president of Instituto Invertir, and Eleonora Silva Pardo, CAF director representative in Peru, who said the CAF Competitiveness Program supported this type of initiative as part of its activities for improving regional competitiveness and entrepreneurship.
"Consistent with CAF's mission to promote regional integration and sustainable development in its partner countries, we believe this initiative will encourage inclusion, competitiveness and dynamic enterprises in Peru," she said.
The president of Instituto Invertir thanked CAF for its support for the Enterprise Now Program for training students from the provinces and the Business Plan Competition, an international business plan competition for entrepreneurs in developing countries, organized by the Business in Development Network, and implemented and adapted for Peru by Instituto Invertir with the aim of bringing dynamic entrepreneurs into contact with investor networks.
Córdova added that in 2009, the winner of the contest obtained USD 960,000 in financing from a Portuguese bank, and the two winners in 2010 received financing of about USD 274,000 from local investors.
"We need to develop in Peru a culture that promotes entrepreneurship ecosystems starting with primary education, and strengthen the network of local investors in order to get more finance for companies with high growth potential," he added.
Instituto Invertir was founded in 2007, convinced that the only way to defeat poverty permanently is through business development. To contribute to making that happen, the Institute works to promote the entrepreneurial spirit among Peruvians, and develop direct access to finance for business initiatives that create value not only for the entrepreneurs but certainly for society in general.