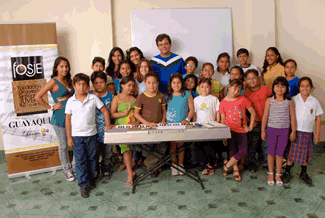 Social Action Program through Music comes to Quito and Guayaquil with conducting and choral workshops.
June 07, 2012
CAF organized the "Voces Latinas" Choir workshop which trained over 400 boys and girls in choral technique.
(Ecuador, June 2012).- As part of its Social Action Through Music (PASM), CAF - development bank of Latin America - and the National Youth Symphony Orchestra Foundation of Ecuador (FOSJE) organized in Quito and Guayaquil conducting and choral workshops, thanks to the cooperation of specialist Venezuelan instructors.
For Hermann Krützfeldt, CAF director representative in Ecuador "the development bank is contributing to the strengthening and implementation of an integrated development agenda by building socio-productive capability, deepening the social fabric and preserving culture as a vehicle for social inclusion."
As a result of the workshops - which included conducting and vocal techniques, choral practice and repertoire selection - about 400 promising artists received first hand training and made progress with selection for children's choirs.
In Quito the work was with children's choirs from city barrios, including La Colmena, El Camal, Chillogallo and Solanda children's choirs.
The Social Action through Music Program has established itself, since its inception in 2000, as one of the flagship programs in the field of social inclusion of children and youth at risk, by following the successful model of the Venezuelan Youth and Children's Orchestra System led by Maestro José Antonio Abreu.
In Latin America, PASM has trained 47,000 vulnerable children and young people, 606 teachers who are multiplying the model in their communities, and organized 162 instrumental, choral and lutherie workshops. The beneficiary countries of PASM include Argentina, Bolivia, Brazil, Colombia, Ecuador, Panama, Paraguay, Peru, Uruguay and Venezuela.