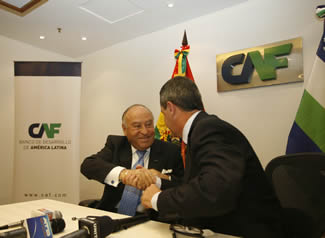 USD 10 million credit line agreement signed with BNB Bolivia
June 05, 2012
A Framework Agreement was signed by CAF President García, and the president of Banco Nacional de Bolivia SA, Ignacio Bedoya.
The agreement sets up a credit line which the Bolivian bank will use for loans and other financing instruments for its customers.
(La Paz, June 1, 2012)., Enrique García, president & CEO of CAF - development bank of Latin America - during his most recent visit to Bolivia, signed a framework agreement formalizing approval of a USD 10 million credit line for Banco Nacional de Bolivia (BNB) which will be used for lending operations, issues, letters of credit, endorsements and guarantees.
"CAF acts as a second-tier bank, granting credit lines to development finance institutions, private commercial banks and qualified companies in the region's productive sectors in order to channel financing primarily to small and medium enterprises (SMEs)" García said.
With these approvals, the multinational bank is expanding its financial support in Bolivia and continues providing financial backing for the banks "which have the capacity to generate a significant impact on the economy, create employment and facilitate access to financing for the most vulnerable sectors of the population," he added.
BNB President Ignacio Bedoya said "this operation is the second of its kind between the two institutions in recent years. The agreement once again demonstrates the trust and confidence that international organizations have in BNB based on its excellent financial position and its future growth and prospects."
"BNB works closely with the SME sector with a dedicated business line. As of April 30 BNB held a portfolio of over USD 300 million in this sector and we intend to increase this asset with these funds from CAF," Bedoya added.