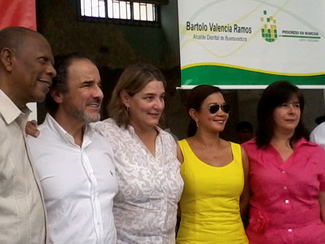 Agreement signed with Colombian Culture Ministry to promote social inclusion and youth training in Buenaventura
July 12, 2012
The agreement provides assistance to the Buenaventura Workshop School as a contribution to rebuilding the social fabric of the port city.
(Bogota, July 12, 2012). In the city of Buenaventura, Colombia, CAF - development bank of Latin America - and the Colombian Ministry of Culture signed a non-reimbursable technical cooperation agreement to provide assistance to the Buenaventura Workshop School program which promotes social inclusion and youth training in Buenaventura city (El Valle department).
The agreement was signed by Culture Minister Mariana Garcés Córdoba, and CAF director representative in Colombia Víctor Traverso.
The mission of the Buenaventura Workshop School is to preserve the cultural identity of the region through training in traditional trades such as construction, carpentry and traditional cuisine.
Traverso said "these projects are critical for leveraging entrepreneurship initiatives in regions where employment opportunities are scarce. We want to create incentives for young talent in this city to improve their quality of life."
He emphasized the participation of the Ministry of Culture, the City Government, Port Society Foundation, IOM and Ecopetrol, a fact that guarantees implementation based on parameters of quality and reliability.
The Colombian National School-Workshop Program: Tools for Peace is one of the initiatives being developed by the Ministry of Culture with the aim of building local qualified social capital by means of training in occupations associated with management, protection and safeguarding of cultural heritage.
Under the Program, young people acquire learning tools which open opportunities for them to enter the labor market, with focus on social reintegration processes, prioritizing participation of highly vulnerable young people as part of its Social Sustainability strategy.