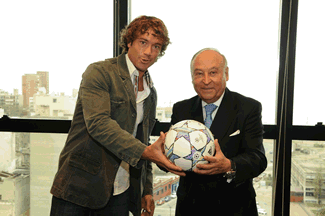 CAF, Celeste Foundation join efforts to promote children's social inclusion in Uruguay
July 03, 2012
Both institutions signed an agreement that seeks to promote underprivileged children's comprehensive development through sports.
CAF President Enrique García and Celeste Foundation members Diego Lugano and Andrés Scotti signed the agreement.
(Montevideo, July 3, 2012).- CAF –development bank of Latin America– and Uruguay's Celeste Foundation signed an agreement to boost underprivileged children and youth's comprehensive development through sports. Values, skills, social integration, gender equality, health and disease prevention will be promoted through soccer, thanks to a number of programs the agreement will facilitate.
"It's very satisfactory to join efforts with the Celeste Foundation, an institution that's doing a great job in this regard, in order to improve living conditions for boys and girls in Uruguay," said CAF President Enrique García, adding that the agreement will foster "very valuable synergies that will result in completing beneficial projects for the country."
García remarked on the initiative's social dimension, an essential component in CAF's comprehensive agenda for sustainable development in the region, which seeks high, sustained, efficient, job generating and inclusive growth.
"We know through our own experience how important sports are in this stage of life –childhood– and especially soccer; that's why we want to give back to society something we received as children, so that others can experience it too," said Uruguay's national team captain and Celeste Foundation member Diego Lugano.
The agreement will boost projects that incorporate physical development, human education and work skills, as well as disease prevention.
The Celeste Foundation is joining CAF's efforts in the region for over 10 years in favor of sports for development. Starting this year, the Latin American multilateral bank will seek to consolidate these initiatives by building the first sports network for Latin American development, in partnership with other international organizations such as Right to Play, the Real Madrid Foundation and the Special Olympics.
The CAF-Celeste Foundation partnership is consistent with the Latin American multilateral bank's goal of promoting a social investment alternative for the interaction of every actor in the region, boosting sports' impact through a powerful alliance, and its use as a tool for inclusion and social development.
The mission of CAF –development bank of Latin America– is to promote sustainable development and regional integration, by financing projects in the public and private sectors and providing technical cooperation and other specialized services. Established in 1970, it currently has 18 shareholder nations –16 in Latin America and the Caribbean, along with Spain and Portugal– and 14 private banks, and is a major source of multilateral financing as well as an important source of knowledge in the region. More information at www.caf.com.
The Celeste Foundation, founded in 2010 by players of Uruguay's national team that ended fourth in the last World Cup, inculcates sports values in boys, girls, teenagers and youth through soccer and other sports. It particularly promotes the opening of sports schools all over Uruguay with the goal of promoting the social inclusion of boys and girls from the population's most vulnerable groups.