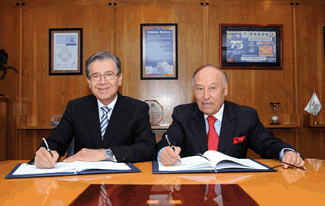 CAF invest in Mexico Ventures I
July 24, 2012
The agreement was signed by CAF President Enrique García and NAFIN Director General Héctor Rangel Domene.
The signing ceremony took place at NAFIN's headquarters.
(Mexico City, July 24, 2012).- During his official visit to Mexico, CAF President Enrique García signed an agreement with Mexican development bank NAFIN Director General Héctor Rangel Domene, by which
CAF will participate in venture capital fund México Ventures I
. The signing ceremony was attended by officials from
NAFIN
, the
Finance Ministry
, the
Economy Ministry
and
México Ventures
.
CAF –development bank of Latin America– will invest US$10 million. García highlighted CAF's catalytic role in triggering change and boosting the venture capital sector's development in Mexico with a regional vision.
In a sense, CAF and NAFIN are building a strategic partnership to promote this kind of mechanism in support of entrepreneurs not only in Mexico but also across Latin America. This new operation by CAF complements investments it had been making in coordination with major Mexican institutions including NAFIN and the Mexican Capital Investment Corporation (CMIC, by its Spanish acronym) with the goal of supporting innovative entrepreneurship.
México Ventures I is the first fund with the main purpose of investing in entrepreneurial capital in Mexico, even though it will also be able to invest in other Latin American countries. The initiative, developed by NAFIN and CMIC, will not only provide financial resources, but it will also play a major role in training new fund managers, who in turn will help the companies in which they invest to capitalize and grow, while also encouraging foreign managers to invest in Mexico.