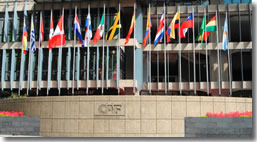 CAF supports boots to road safety measures in the region
July 23, 2012
CAF is one of eight development banks that collaborate with United Nations on Road Safety.
The group reviewed progress made on the Decade of Action for Road Safety 2011-2020 plan, whose goal is preventing 5 million deaths and severe injuries to 50 million people.
(Caracas, July 23, 2012).- The alarming annual traffic fatality figures around the world have attracted the attention of eight multilateral development banks that are part of the United Nations Road Safety Collaboration Group.
CAF –development bank of Latin America– joined this initiative, whose goal is stepping up efforts to promote road safety measures around the world. The other members are the African Development Bank; the Asian Development Bank; the European Bank for Reconstruction and Development; the European Investment Bank; the Inter-American Development Bank; the Islamic Development Bank and the World Bank.
CAF President Enrique García said, "Even though since our beginnings we have been working on infrastructure issues, focusing on the public's wellbeing and respect for the environment, we are pleased to join the United Nations Collaboration Group as road safety is one of the biggest problems in the sector."
The United Nations Road Safety Collaboration Group helps countries around the world improve their record through road safety management, safer vehicles and roads, and better victim assistance in case of accidents, among other measures.
New initiatives were announced as part of growing global efforts to bring down the annual 1.3 million traffic accident fatalities, from a road safety observatory for Latin America to a Road Safety Investment Fund.
CAF's actions on this issue are included in the institution's support for Latin American infrastructure. CAF is the main infrastructure and energy multilateral financing source in Latin America today. Last year, 50 percent of its funding approvals were allocated to economic and integration infrastructure.
Attention on the region
Through its Urban Mobility Observatory, CAF seeks to provide shareholder nations sound, reliable and up to date information on the transportation and mobility sector, with the goal of contributing to public policies development.
Analysis results of 15 metro areas in nine countries in the region have been released in a periodical publication and a website with information on Bogotá, Buenos Aires, Belo Horizonte, Caracas, Mexico City, Curitiba, Guadalajara, León, Lima, Montevideo, Porto Alegre, Rio de Janeiro, San José, Santiago and São Paulo.
According to the Observatory, more than 8,500 people in the mentioned cities died in traffic accidents, with pedestrians representing more than half of fatalities.
Global prevention plan
The World Plan recommends measures for road and vehicle safety, emergency services improvements and road safety management capacity promotion. It also advocates for bigger efforts in legislation and law enforcement on helmet use, safety belt and child retention systems, as well as against drunk driving and speeding. Globally, only 15 percent of countries have comprehensive laws on these issues.
Pedestrians, cyclists and motorcyclists represent more than half of traffic fatalities globally. Most safety progress in the last decades is related to car users' protection. The World Plan suggests measures to protect these vulnerable groups.
If applied properly, measures listed in the World Plan would prevent 5 million deaths and severe injuries to 50 million people. The Decade of Action for Road Safety plan, in which CAF participates, also seeks to attract funding from donors for solutions to this problem.