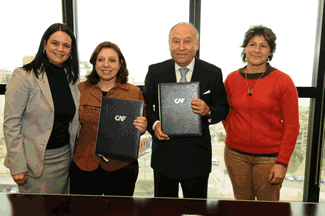 CAF will support Montevideo in recovery and development of Casavalle area
July 03, 2012
CAF's President and the Montevideo's mayor signed a social and economic recovery agreement for the Casavalle area.
The project won the first prize in the Informal Settlements' Urban and Social Development international contest, organized by CAF.
(Montevideo, July 3, 2012).- CAF –development bank of Latin America– has provided funding to Montevideo's City Hall to develop the
Casavalle Area Recovery and Urban Integration Project.
CAF President Enrique García and Montevideo Mayor Ana Olivera signed the financing agreement.
The project was selected through the Informal Settlements' Urban and Social Development international contest, organized by CAF in 2011. The Uruguayan team of Álvaro Trillo, Jimena Abrahan and Javier Vidal won the top prize with its proposal, out of 34 entries from 11 countries.
The prize was endowed with US$10,000 and a CAF Technical Cooperation agreement for the project's execution. CAF's support will pay feasibility studies for the Casavalle area recovery plan in order to improve living conditions for its residents and create productive development opportunities.
"Urban development is a priority in CAF's social agenda by generating knowledge on irregular settlements' integration, public space planning and access to basic services and mobility, in order to contribute to a solution to urban problems, as an opportunity to improve the quality of life and reduce social inequities," said García.
"This particular agreement is very important because we have a plan for Casavalle; for many years, Uruguayan society merely provided diagnoses but […] a Casavalle council has now been formed and a construction plan has been defined," said Mayor Ana Olivera.
She added, "This agreement, as well as others that we may sign in the future, allow us to move towards achieving this plan for a Montevideo area with which Uruguayan society, in my view, is in debt."
The Casavalle Project, which started with claims from neighbors, includes construction work on a 430,000 square meter (4,630,000 square feet) area in two stages. Originally there were country houses and farms in the area. Residential complexes were built afterwards, followed by irregular settlements. Permanent litter, precarious infrastructure and recurring stigmatization are the markers the area is currently known for. Most of its residents are under 34 years old and 34.7 percent of Casavalle's youth are out of work and school.
The proposal includes the creation of a park along Miguelete creek as well as sports and recreation spaces (playing fields, bicycle lanes, skate park), areas for socializing and a waste recycling plant.