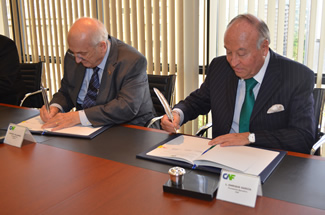 FIIC-CAF Corporate Social Responsibility Latin American Prize
July 10, 2012
CAF and the Inter-American Federation of the Construction Industry seek to promote CSR among the region's construction companies.
(Caracas, July 10, 2012).- CAF –development bank of Latin America– will sponsor the
FIIC-CAF Corporate Social Responsibility Latin American Prize
, organized by the Inter-American Federation of the Construction Industry (FIIC, by its Spanish acronym) with the goal of promoting CSR among the region's builders.
The technical cooperation agreement under which the Latin American bank will sponsor the prize was signed at CAF's Caracas headquarters by President Enrique García, and FIIC Executive Board President Manuel Vallarino and Secretary General Ricardo Platt.
García said "it has been demonstrated that businesses play a fundamental role in poverty and inequality reduction through Corporate Social Responsibility actions." Consistent improvements in Latin Americans' quality of life are a major objective for the institution, he added, which is why it develops initiatives that "foster private enterprise growth and thus, more jobs are generated and more goods and services are produced for the population."
Vallarino thanked CAF's support, adding that submissions to the contest by businessmen who successfully implemented CSR rules were being examined. "The prize will award a special recognition to three building companies with outstanding social responsibility record through social and environmental activities," he said.
The prize was designed according to internationally recognized measuring standards, taking into account social, environmental and economic aspects.
The contest will be held twice a year, with its first edition scheduled for Oct. 2012 in Lima as part of FIIC's Biennial Congress.
The Inter-American Federation of the Construction Industry (FIIC) is an international non-profit private organization made up of construction industry national chambers from 18 Latin American countries. It was founded Nov. 6, 1960 in Mexico City at the Construction Industry Second Inter-American Congress. http://www.fiic.la/
The mission of CAF -development bank of Latin America- is to promote sustainable development and regional integration, by financing projects in the public and private sectors and providing technical cooperation and other specialized services. Established in 1970, it currently has 18 shareholder nations –16 in Latin America and the Caribbean, along with Spain and Portugal– and 14 private banks, and is a major source of multilateral financing as well as an important source of knowledge in the region. More information at www.caf.com.