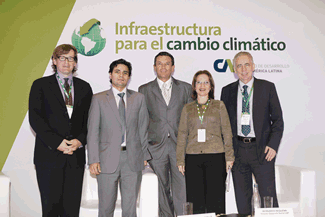 Geópolis comes into being: network for disaster risk management and reduction
July 10, 2012
CAF presented the Geopolis think tank, a network aimed at building institutional capacities and promoting a culture of prevention and management.
The initiative aims to harness the talent and capability of specialists, scientists and authorities to identify and measure threats and risks, reduce vulnerability and increase resilience.
The initial phase will focus on three topics: strengthening institutional planning and development, identifying the effects of climate change on the region, and reviewing earthquake-resistant engineering standards.
(Bogota, July 10, 2012). – As part of the Infrastructure for Climate Change Seminar, CAF - development bank of Latin America - presented Geopolis, the network for disaster risk management and reduction, set up to develop an integrated vision for implementing infrastructure projects that facilitate socially and economically sustainable growth.
The idea is that Geopolis should become a think tank working on building instructional capacity by creating incentives for a culture of prevention which brings specialists and scientists of the highest academic level together to make practical recommendations for dealing with natural disasters in the region.
Antonio Juan Sosa, CAF infrastructure vice president, says the Network will identify threatening situations, reduce vulnerability and build citizens' capacity to overcome potentially strong destructive events, by planning specific projects.
The initial phase of Geopolis will address three areas: planning and institutional development, climate change, and earthquake-resistant engineering. In the first, the capacity to reduce disaster risk will be strengthened on long-distance land routes, power generation and transmission systems, and ports.
The second will look at the behavior of glaciers, determine water availability in adjacent cities, analyze the impact of climate change on water resources and countries' resilience to adapt.
Finally, the current standards on earthquake-resistant engineering in the region will be evaluated, along with a comparison of the criteria used, determination of the minimum concepts that the standards should include, and creation of an initial network and an analysis group.
"We already have a group of experts from Chile, Colombia, Costa Rica, Ecuador and Venezuela, joined by experts from Argentina, Dominican Republic and Peru. With them we are analyzing each country's seismic regulations, and stimulating cooperation, and we are going to make a proposal for research and development projects; but mostly we are focusing on quantification of the risk elements in an effort to improve decision making for infrastructure development," the CAF Infrastructure vice president said.
Geopolis aims to influence social appropriation of knowledge by supporting the public sector, private enterprise and communities. This is not just about deepening financial projects in favor of development, but it also has an important social meaning for strengthening populations. In other words, taking a new look at the importance of planning as a necessity for building society.