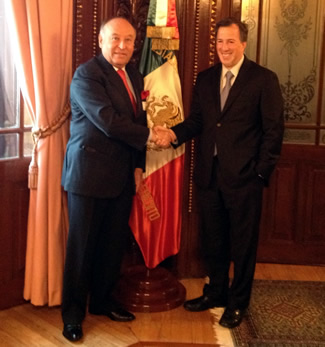 Mexico announces increase in its shareholding
July 26, 2012
The increase in Mexico's shareholding in that Latin American financial institution was announced during the visit of CAF's president and CEO to Mexico.
Mexico has been appointed to occupy a position as Principal Director on CAF Board of Directors for the period 2012-2015
Mexico City will be the twelfth Latin American city where CAF will have a Representative Office.
(Caracas, July 26, 2012). During his visit to Mexico, Enrique García, the president and CEO of CAF –Latin American development bank- held meetings with top government officials for the purpose of consolidating and expanding the bank's relations with that nation. Worthy of special note were the meetings with the Secretary of the Treasury and Public Credit, José Antonio Meade; the Undersecretary of the Treasury and Public Credit, Gerardo Rodríguez and his team of collaborators; the director general of Banco Nacional de Obras y Servicios Públicos, S.N.C. (BANOBRAS), Georgina Kessel; and the director general of Nacional Financiera (NAFIN), Héctor Rangel Domene.
During those meetings, a preliminary analysis was done of the work program to be carried out by CAF in Mexico in support of the public and private sectors through the Federal Government, BANOBRAS, NAFIN, and the National Infrastructure Fund/FONADIN, and also of potential strategic alliances in favor of road infrastructure, mass transportation, water and sanitation, public-private partnerships, renewable energies, and other sectors of vital importance for Mexico's development.
On the occasion of the visit, an agreement was announced under which Mexico was to formalize an increase in its capital in CAF. On this matter, the president and CEO of the Latin American bank said, "Mexico's decision to increase its shareholding in CAF is an acknowledgement of the bank's catalytic role and contribution to sustainable development and regional integration and also demonstrates the confidence Mexico has placed in CAF."
CAF will be represented in Mexico by the Secretary of the Treasury and Public Credit, José Antonio Meade.
García expressed his satisfaction at the important progress made in CAF's relations with Mexico since it joined as a shareholder in 1990. "Since it joined CAF, we have been working with the Mexican authorities, supporting important sectors of the national economy. The recent increase in capital in CAF expands spaces for designing and executing a work program for the next six years that is consistent with the development strategy that the authorities define."
Enrique García also announced that Mexico City will become the twelfth Latin American city to have a CAF Representative Office. "We believe that the opening of this office shortly is a normal step in the expected growth of CAF's activities in the country and also reflects our interest in having a greater presence in Middle America.
CAF's support is enhanced Since Mexico joined CAF, the bank has approved funds for that country amounting to USD 241 million in support operations, mainly for small and medium enterprises, micro financial institutions, and via the mechanism for participating in different risk capital investment funds.
Deserving of special mention is CAF's participation in 2010 in a partial credit guarantee operation in favor of the Mexico State Government's Instituto de la Función Registral that permitted an important issue of papers. This operation received acknowledgements of prestige, among them Best Structured Finance Transaction and Best Financial Innovation from the journal LatinFrance.