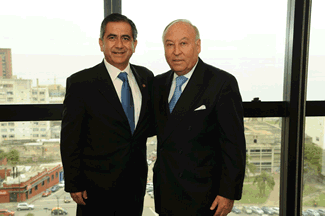 "Ruta Viva" road project supported by CAF
July 03, 2012
CAF and Quito's City Hall previously signed a US$51.5 million loan agreement to complete the project's first phase.
The newest, US$99.9 million loan contract to finance the project's second phase brings CAF's support to a US$151.5 million total.
(Montevideo, July 3, 2012).- CAF –development bank of Latin America– and Quito's City Hall signed a loan agreement in Montevideo to finance Valleys' Integration Road Project's Phase II.
The project, entitled "Ruta Viva" ("Living Route") will become the best mobility alternative for the area's 200,000 residents, according to CAF President Enrique García and Quito Mayor Augusto Barrera, who signed the loan agreement.
García noted that CAF and Ecuador have excellent relations. "CAF pays special attention to the execution of projects that are related to human development, such as Ruta Viva, as they directly result in quality of life improvements."
Barrera said the project was "essential to unclog the Valleys and improve the links between Quito and that rapidly developing area." More importantly, he added, the new road is vital "to connect the capital with Tababela, where the new airport will be inaugurated in October."
Ruta Viva's second phase includes the 7.3 kilometer (4.5 miles) stretch from La Primavera to Puembo. One of the projects main features is the construction of two major bridges over the San Pedro and Chiche rivers, which will contribute to relieve heavy traffic currently circulating on the old bridge, built more than four decades ago. Ruta Viva will join with Interoceánica highway and other roads, in order to integrate the areas traversed by the new route.
CAF's funding will be employed to directly cover project expenses, including engineering work, supervision, as well as environmental and social costs. Empresa Pública Metropolitana de Movilidad y Obras Públicas (EMMOP) will execute the project on behalf of Quito's City Hall.