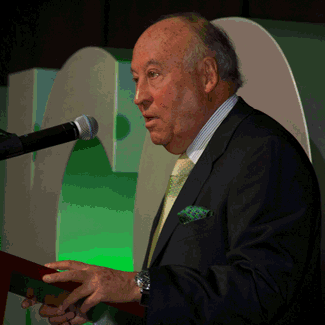 Santa Cruz Chamber of Industry and Commerce acknowledges the work of Enrique García
July 27, 2012
CAF's president and CEO visited Santa Cruz de la Sierra in Bolivia to receive an important award for his outstanding work in favor of Latin American development.
(La Paz, July 27, 2012). During his latest visit to Santa Cruz de la Sierra in Bolivia, Enrique García, the president and CEO of CAF –Latin American development bank-, received an important award from the Santa Cruz Chamber of Industry, Trade, Services, and Tourism (CAINCO) in recognition of his outstanding professional career and his contribution to the country's development.
The award was presented at a luncheon attended by more than a hundred businessmen who are members of the Chamber.
"Enrique García is one of the most outstanding Bolivian personalities because of the work he has been doing in favor of the development of Bolivia and Latin America. This productive work has permitted him to forge an integrationist vision and transform CAF into a true development bank of Latin America," affirmed CAINCO's president, Ricardo Mertens.
"In this warm region of Bolivia, companies have been consolidated thanks to the effort of proactive-spirited men and women who have sought prosperity and shared it with society, multiplying jobs and generating progress for its inhabitants. In order for that effort to multiply we need financial backing, more leverage from financial institutions and agencies such as the one you direct for them to provide us with long-term resources for extending the agricultural frontier, installing new factories, generating more jobs," he added.
During the presentation of the award, Mertens pointed out that the business sector is convinced that CAF accompanies them in this desire to grow and reiterated their admiration for "Enrique García's brilliant and exemplary career, which has transcended the frontiers of America to become a world reference in financial systems."