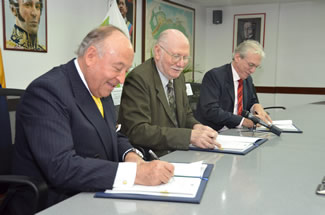 CAF approves funding for rehabilitation of Venezuela's water treatment plants
August 24, 2012
The US$150 million agreement was signed at the Environment Ministry.
The project will benefit more than 8 million people.
(Caracas, Aug. 24, 2012).- CAF –development bank of Latin America– approved a US$150 million loan to rehabilitate the seven biggest water treatment plants in Venezuela.
The agreement, which will partially finance the Rehabilitation and Optimization Plan, was signed by CAF President Enrique García; Planning and Finance Minister Jorge Giordani; Environment Minister Alejandro Hitcher; and Hidroven President Cristóbal Francisco.
"CAF backs efforts by countries in the region to ensure sustainable and high quality drinking water and treatment services access to the population, especially the low income one," Garcia said.
"CAF's strategy for the sector is based on supporting shareholder nations in structuring and financing investment programs and projects, with high social and environmental impact," he added.
Giordani referred to the plant rehabilitation plan, saying, "We cannot think about quality life without water, this element has always been fundamental for us, and that's why Venezuela has invested so much in the last years in environmental and social issues."
"There is no doubt that CAF has been our fellow traveler along this road, by always being present, and this act is one more manifestation of this institution's constant presence in the country," added Giordani.
"With the country's seven biggest drinking water plants' Rehabilitation and Optimization Plan –Alejo Zuloaga (Carabobo state), La Guairita, La Mariposa y Caujarito (Miranda state), Cordero (Táchira state), Turimiquire (Sucre state) and Planta C (Zulia state)– undertaken by the Bolivarian Republic of Venezuela's government, drinking water's supply, quality and reliability will improve in the nation's main metro areas," said Hitcher.
The plan's first phase, estimated at US$214 million, includes engineering feasibility studies at the seven plants, investments in a first group of them, and strengthening Hidroven's and its affiliates' management capacities. The first water treatment plants serve Caracas' and Valencia's metro areas.
The plan has a total cost of more than US$500 million. Its biggest impact will be improvements in the quality of life and health for more than 8 million Venezuelans.
In the 2007-2011, CAF approved more than US$3.7 billion for Venezuela. This includes long term financing and investment projects, mainly in economic infrastructure, especially in power generation (Tocoma, Termozulia III and other projects) and mass transit projects.