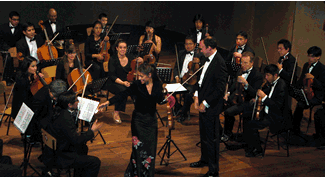 CAF supports "Classical Bolivia"for second year in a row
August 15, 2012
Symphonic music festival includes a series of concerts by internationally recognized artists.
The financial institution carries out different actions that strengthen human capital in its shareholder countries by promoting socially inclusive art and culture.
(La Paz, Aug. 15, 2012).- As part of its commitment to human capital in every country in the region, CAF –development bank of Latin America– supports, for the second year in a row, a novel educational and musical project that benefits hundreds of child and young musicians. Thanks to talented Bolivian pianist Ana María Vera's initiative, they receive excellent musical training.
The project, entitled "Classical Bolivia," was created by Vera to include Bolivia and its most talented musicians in the international cultural circuit. In addition to facilitating high level musical learning and training for Bolivian children and youth, Vera has created an annual international festival of classical music, whose second edition will take place in the coming days.
The "Classical Bolivia" festival is a high quality show, with prestigious international artists. Concerts are planned for Aug. 9-23 in different artistic venues in Tarija, La Paz and El Alto.
Internationally recognized artists will perform in the festival, including violinists Leticia Moreno, from Spain, Ken Aiso, from Japan, Eric Hosler and Jennifer Stumm, from the U.S.; clarinetist Matthew Hunt, from the U.K., and cellist Guy Johnston, also from the U.K., as well as conductor William Lacey.