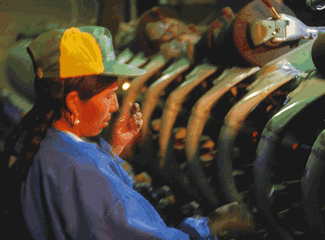 Study to determine formalization impact on 800 Bolivian micro enterprises
August 09, 2012
CAF, in partnership with FUNDEMPRESA, will conduct a study to determine the impact micro enterprise formalization would have in their productivity and performance.
The study's results will be published in CAF's 2013 Economy and Development (RED) report.
(La Paz, Aug. 9, 2012).- CAF –development bank of Latin America– and FUNDEMPRESA, Bolivia's Trade Registry concession holder, signed today a cooperation agreement to conduct a study to determine the importance and value formalization would have on the nation's micro enterprises.
The study will seek to determine commercial registration's impact on business generation, customer and supplier relations and, more generally, on micro enterprise productivity increases.
"Micro business has a high growth potential and is acquiring growing importance in national economies, especially in Bolivia," said CAF country director in Bolivia Emilio Uquillas. "That's why, with this study we seek to explore the formalization value for the micro businessman and thus support entrepreneurship and productivity promotion policies."
FUNDEMPRESA President Oscar Calle said that as of June 2012, out of the 62,998 companies in the country, 44,449, or 70 percent, are sole proprietorships; 16,774 are limited liability companies (27 percent); 1,775 are joint stock companies and other types (3 percent). "These data confirms that most companies in the Trade Registry are smaller scale, which is why we need to know this sector's needs in order to generate policies that enable their formalization and permanence, which would in turn contribute to formalizing the national economy," Calle added.
The experimental study includes interviews and surveys among La Paz and El Alto's 800 businessmen in textiles, wood, furniture, metals and mechanic workshops and household repairs.