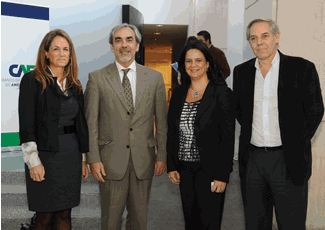 Supporting the entrepreneurial spirit
August 23, 2012
CAF, AVINA, and Uruguay's Ministry of Industry held an international seminar with the purpose of promoting and developing the entrepreneurial spirit by recounting experiences in other countries of the region.
The event was opened by Minister of Industry Roberto Kreimerman and Vice-minister of Economy Luis Porto and counted on the presence of distinguished international panelists.
(Montevideo, August 23, 2012). CAF –Latin American development bank–, the AVINA Foundation, and the Ministry of Industry, Energy, and Mining (MIEM), through the National Directorate of Craft, Small and Medium Enterprises (DINAPYME), organized the international seminar
Entrepreneurial Uruguay: Institutional Framework of Public Entrepreneurship Policies
. This event is part of a cycle on entrepreneurial undertakings that CAF has been developing throughout the region.
CAF's director and representative in Uruguay, Gladis Genua, stated that "CAF, as a development bank, promotes an integral vision of development in its shareholder countries that seeks to combine four elements: macroeconomic stability, microeconomic balance, social equity, and environmental sustainability. With this objective in mind, we support all initiatives that lead to an increase in productivity and competitiveness via an agenda that complements activities of financing with technical assistance. We are convinced that promoting entrepreneurship and innovation contributes to strengthening the productive base of countries and, therefore, their economic and social development. The objective of activities such as those that bring us here today is to create and strengthen forums for dialog among the different actors for the purpose of defining an agenda for promoting entrepreneurship in countries."
The encounter was opened by Uruguay's Minister of Industry, Energy and Mining, Roberto Kreimerman, who said, "This flourishing region is only going to be able to maintain its economic growth and improve its social justice in a world that is changing through greater industrialization and productive development."
The minister stressed, "We are not going to take another leap if we do not create an environment that accompanies the comparative advantages that Uruguay has of an agro-industry, location, and trained people," for that reason "DYNAPME has an extremely important role in that coordination" with which we seek to learn from "successful public policies," committing to "entrepreneurship, new ideas, and new business models."
AVINA's director, Carmen Correa, for her part, underlined that the region has made considerable progress on this issue. "Fifteen years ago, no one talked of entrepreneurs; they existed, but they were not called entrepreneurs. Today we are aware that entrepreneurship is a key factor for the sustainable development of Latin America. For that reason, at AVINA, we seek to encourage the development of inclusive businesses and new undertakings, promoting the forming of business incubators and fostering the link between the private sector and the region's leaders."
In the opinion of DINAPYME's director, Pablo Villar, the challenge centers on "changing one's sights, one's viewpoint and the method of working," as today "public policy is done based on programs and we have to do public policy based on policies of state" that analyze medium- and long-term issues.
The event's closing speech was given by Uruguay's Vice-minister of Economy and Finance, Luis Porto, who stated that the "essence of entrepreneurship is disagreement with the status quo" and that, given this, when embarking on an enterprise, three questions need to be answered: Why undertake an enterprise? What or who? and What for?
Here, in Porto's view, "an entrepreneurial undertaking has second–mover advantages, but also costs with regard to the status quo, which creates the need to share costs, thus opening up a space for public policies."
He concluded by proposing an alternative to lengthy analyses on priority sectors: using what in economic theory is called "mechanism design," which consists of generating adequate incentives in order to achieve desired impacts.
During the seminar, a review was offered of entrepreneurship in Uruguay, experiences in other Latin American countries were shared, and information was given on the work being done by CAF on this matter in the region. To that end, papers were given by distinguished international entrepreneurship experts such as Clementina Giraldo and Adolfo Castejón from CAF, Otto Granados from Mexico, Elizabeth Zapata from Chile, Andrés Zurita from Ecuador, and Alejandro Minatta from Uruguay's Red Emprender.
More information at http://eventos.caf.com/foro-emprendimiento/uruguay