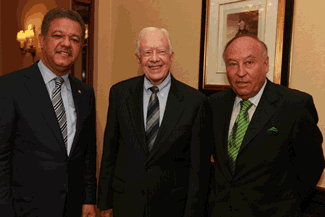 Carter calls for increased attention to Latin America
September 07, 2012
Former U.S President Jimmy Carter, said the Latin American region will not be a priority for the United States, regardless of who wins the upcoming U.S presidential elections.
Washington (Sept. 7, 2012) - As the XVI Annual CAF Conference came to a close, former U.S. president Jimmy Carter called for stronger relations between the U.S. and Latin America, and regretted that the U.S. "is not doing enough as a major country to bring peace and harmony, trade and commerce, and understanding and basic human rights to the people in Latin America."
Carter also said that while he was in office, he had a very deep interest in Latin America. However, "I have not seen that interest in either candidate for president in the United States unfortunately, and my prediction is that they will not elevate Latin America to the highest priority in the next four years unless some negative crisis evolves."
Challenges to Latin America's development were keenly discussed during the CAF Conference, which has become a must-attend forum for public and private sector leaders across the hemisphere.
Speaking about the global financial crisis and ways to safeguard Latin America's economy from greater contagion, Enrique Garcia, executive president for CAF - Development Bank of Latin America – said he favored a midway solution between austerity and stimulus measures.
"Austerity produces declining growth rates, higher unemployment and social pressure. On the other hand, growth cannot take place without macroeconomic stability. That's why we must find a middle-ground solution that is tailored by country, since cookie-cutter programs will not necessarily work," Garcia stressed. "It is clear though, that focusing solely at the macro level is not enough. Latin America as a region needs a strategy to promote greater microeconomic efficiency, increase investments, foster innovation to increase productivity, strengthen institutions to build investor confidence and encourage pragmatic participation in international markets."
This year's CAF Annual Conference XVI, hosted over 400 Latin American and U.S. political leaders, international organization members, business leaders, members of the financial community, academics, journalists and political analysts are participating in the two-day event.
The CAF Annual Conference seeks to share information and perspectives on areas pertaining to Latin America's development. Key conference topics included: the U.S. election and its impact on Latin America; pending challenges for sustainable development; views on addressing drug trafficking, violence and transnational crime.