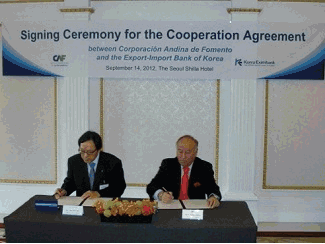 Latin America is the most dynamic regional partner for South Korea
September 14, 2012
CAF President Enrique García visited the Asian nation with the goal of strengthening bilateral relations as well as to promote trade and investment in the region.
García was the keynote speaker at two events: Investment Cooperation Between Korea and Colombia and Latin America Korea Investors Forum.
CAF and Eximbank signed an agreement to promote new business opportunities in Latin America.
(Seoul, Sept. 14, 2012).- "Trade between Latin America and South Korea has grown 16 percent annually on average in the last two decades, which turns us into the most dynamic regional partner for this country," said CAF President Enrique García during his visit to the Asian nation. However, he stressed the importance of "building a more balanced relationship between both regions, by which Latin America is able to also export goods with a higher added value."
García's visit, whose goal was to strengthen relations between CAF –development bank of Latin America– and the South Korean government, as well as to promote bilateral trade and investment in Latin America, was an opportunity for meetings at the Foreign and Commerce Ministry, the Finance Ministry, Eximbank, Korea Finance Corporation, and industrial and business associations.
CAF's President was the keynote speaker at the events entitled "Investment cooperation between Korea and Colombia" and "Latin America Korea Investors Forum," where he pointed out the dynamism, the expansion and the potential in relations between Latin America and South Korea.
During his presentations, García highlighted his institution's catalytic role in promoting Korean trade and investments in Latin America. "Korean investment can became a valuable opportunity to promote knowledge and technology transfer to the region, as well as encourage innovation and productive transformation processes."
He also said, "CAF represents an important platform to promote experience exchanges between Korea and Latin American nations in sustainable development. The environment, education, IT and good governance are major interest areas, as well as the joint work that can be done in knowledge generation."
CAF, South Korean Eximbank agreement
During his visit, García and Eximbank President Yong Hwan Kim signed a mutual cooperation agreement with the goal of promoting new business opportunities in different areas, as well as joint financing of projects to promote sustainable development in Latin America.
The agreement sets the basis for co-financing opportunities, with the goal of strengthening CAF shareholder nations' economies and improving their private sector's access to resources. "It is necessary that business sectors in both Latin America and Korea boost transpacific relations and become integration and sustainable development engines," García concluded.
The main areas that will get support under the agreement are transportation, water supply and treatment, agriculture, trade, energy –including renewable energy, energy efficiency and natural resources.