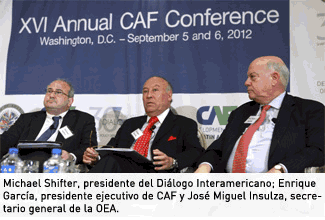 Regional Leaders Call for a Greater Role for Latin America in U.S. Policy
September 06, 2012
XVI Annual CAF Conference examines U.S.-Latin America relations and key issues affecting regional development
Washington (Sept. 6, 2012) – The XVI CAF Annual Conference kicked off in Washington, D. C. with Latin American leaders calling for U.S. President Barack Obama and his Republican opponent, Mitt Romney, to give Latin America a greater role in U.S. policy decisions.
The annual conference, sponsored by (CAF), Latin America's development bank; the Inter-American Dialogue and the Organization of American States (OAS), seeks to encourage greater dialogue on factors influencing Latin America's development. More than 400 Latin American and U.S. political leaders, international organization members, business leaders, members of the financial community, academics, journalists and political analysts are participating in the two-day event.
Speaking before an international audience representing Europe, Asia and the Americas, Enrique García, CAF's executive president, stressed the importance of the conference as a vital forum for discussing key hemispheric problems and challenges.
"At this juncture in the U.S political campaign, regardless of who wins the election—Democrats or Republicans—a new approach to Hemispheric relations is needed since they have considerably weakened compared to past decades," said Garcia. "In addition to being allies, we must be partners."
Plenary sessions opened with a panel of international experts discussing Latin America's emerging "South" and how this phenomenon affects the reconfiguration of global power balance, economics and trade. Key speakers included OAS Secretary General, Jose Miguel Insulza; Inter- American Dialogue president, Michael Shifter; and former President of the Dominican Republic, Leonel Fernandez.
Addressing the need for Latin America to forge its own approach toward development, Insulza stated, "The relationship between the U.S. and Latin America can be better or worse, but it certainly cannot be similar or the same to what we had 30 years ago because the region has changed substantially. Today, Latin America is seeking its own destiny rather than a purely hemispheric relation. If we want to renew pan-Americanism, we must find a clear agenda on topics that are inherently hemispheric while allowing countries to continue on their independent path in areas that are not hemispheric in nature."
Shifter stressed the importance of events like the CAF Annual Conference as a platform for stakeholders to exchange knowledge and ideas. "The challenges for development throughout the region are significant. While there is no lack of interesting and innovative initiatives to generate development in Latin America and the Caribbean, there are few opportunities to share knowledge, lessons and results," he said. "That's why conferences like this one are so valuable."
Leonel Fernández, former President of the Dominican Republic, highlighted the region's pending challenges. "Although Latin America did not feel the impact of the economic crisis to the extent Europe did," he said, "we must leverage the current economic bonanza to transform the region's primary export-based economic model into a diversified economy."
According to Garcia, the large turnout of international participants underscores the region's growing influence around the globe, economically, politically and socially. "We are an immense region," said Garcia. "The challenges and opportunities are equally immense, and CAF's role is to encourage dialogue on all aspects of the region's development."
The CAF Annual Conference seeks to share information and perspectives on areas pertaining to Latin America's development. Key conference topics include: the U.S. election and its impact on Latin America; pending challenges for sustainable development; views on addressing drug trafficking, violence and transnational crime. Today's meeting will be attended by former U.S. President Jimmy Carter, who will discuss the prospects of inter-American relations.