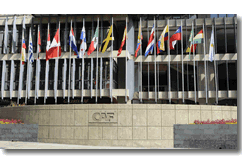 Successful reopening of Yankee bond 2022
September 21, 2012
The reopening, in the sum of USD 407 million, increases the current amount to USD 1.5 billion.
The yield of 3.41% in dollars is the lowest obtained by the bank for a10-year term.
(Caracas, September 19, 2012). A reopening of the Yankee bond in the sum of USD 407 million with a 4.375% coupon and maturity in 2022 has been issued by CAF -development bank of Latin America-, increasing the size of this bond to USD 1.5 billion.
It is worth noting that, after having performed a successful debt swap -which made it possible to improve the financing curve in dollars- and having its rating upgraded by Moody's to Aa3, CAF was able to reduce the margin over the US Treasury by more than 120 base points compared to the original issue made in June 2012. The yield of 3.41% in dollars is the lowest obtained by the bank for a ten-year term and is even slightly below its own level on the secondary market.
With the purpose of continuing to diversify the investor base, both in the United Kingdom and in Europe and Asia, CAF announced the transaction when the markets opened in London. By the time New York opened, demand had already doubled the amount of USD 250 million announced initially. With this strategy, CAF managed to attract new investors, adding more than 76 accounts on the orders book from the United States, Europe, Latin America, the Middle East, and Asia, with total demand coming to USD 1.25 billion. This reflects CAF's credit quality as a multilateral financial agency and also that it continues to be attractive to high quality investors throughout the globe.
"CAF's successful presence on the international markets helps it to obtain funds for carrying out its mission of supporting the sustainable development and integration of the region," stated Enrique Garcìa, CAF's president and CEO.
CAF is the frequent issuer in Latin America with the highest credit ratings in recognition of its excellent financial indicators, solid legal structure, and permanent commitment to its shareholder countries.
In 2012, the bank has made 11 issues for a total of more than USD 2.6 billion; and since 1993 it has placed approximately USD 16.5 billion on the capital markets.
CAF offers multiple financial services with high added value to both the public and private sectors in the form of loans, guarantees and warranties, financial consulting and investment banking, treasury services, equities, technical cooperation, and other services.