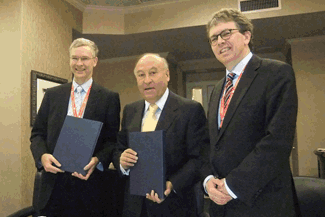 CAF and KfW Partner to Propel Water and Sanitation Projects in Latin America
(Tokyo, October 12, 2012). – The Latin American Development Bank (CAF) and the German Development Bank, Entwicklungsbank, (KfW) have signed an agreement whereby KfW will grant a US$100 million credit line to finance CAF projects directed toward sanitation and the water sector within Latin America. The transaction, which took place on Monday, October 12 in Tokyo, was conducted by Enrique Garcia, chief executive of the Latin American Development Bank (CAF) and two senior executives of KfW: Stephan Opitz, CEO and Rüdiger Hartmann, director.
In reference to the agreement, Enrique Garcia, CAF's chief executive, emphasized that as an institution that builds bridges connecting Latin America with the rest of the world, attracting resources to Latin America from other regions is part of the central role of CAF. Within this context, the relationship between CAF and KfW is important. It has allowed Latin America to benefit from German resources that have been invested effectively in sustainable development and regional integration. For the grant, KfW will draw on resources that are covered within a specific program of the institution designated to support water and sanitation sectors.
"In the last decade, Latin American countries have made substantial progress in water and sanitation," comments Garcia. "CAF's commitment to the sector is evidenced by the approval of more than US$ 2 billion to finance investments of its kind in the region during the five year period from 2007 to 2011."
The relationship between CAF and KfW was initiated in 1977 when the entities signed their first loan agreement. Subsequently, the two institutions have implemented numerous credit arrangements and joint activities to support the financing of infrastructure projects in Latin America. In recent years, resources have been allocated to environmental operations---more specifically referred to as renewable energy projects and energy efficiency---and to promoting those projects oriented to mitigate climate change.
CAF's comprehensive agenda to promote sustainable development and regional integration places special emphasis on social inclusion and environmental protection. In that sense, the agenda addresses the issue of water through four lines of action: management and watershed protection; irrigation and agricultural development; drainage and flood control, and water supply and sanitation. By supporting these projects and working to optimize the quality of delivery for water and sanitation, CAF aims to ensure universal access to these essential services. This will help improve social conditions within the region while enhancing environmental conditions and Latin America's competitiveness.
The mission of the Development Bank of Latin America (CAF) is to promote sustainable development and regional integration by financing projects in the public and private sectors, providing technical cooperation and other specialized services. CAF was established in 1970 and currently consists of 18 countries-- 16 from Latin America and the Caribbean, along with Spain and Portugal and 14 private banks. CAF is a major source of multilateral financing and an important source of knowledge for the region. Additional information can be found at www.caf.com.