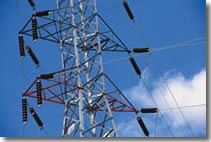 CAF and OFID Ink Agreement to Promote Energy Efficiency Projects in Latin America
October 12, 2012
Initiatives to increase access to modern energy services in region's underserved populations a key focus
(Tokyo, October 12, 2012). – Meeting in Tokyo, Enrique Garcia, chief executive of the Development Bank of Latin America (CAF) and Suleiman J. Al-Herbish, General Director of the OPEC Fund for International Development (English acronym, OFID) signed an agreement to collaborate on activities that promote the development of a sustainable energy sector in Latin America.
"With this agreement we jointly encourage, develop and facilitate initiatives to support the public and private sectors of Latin American countries through co-financing and other forms of investment targeting projects that promote sustainable development within the energy sector," said Garcia.
The projects under the agreement will focus on activities that promote access to modern energy services for low-income populations. Projects will also support countries in the process of reviewing their laws and energy policies to promote the use of effective solutions to produce and distribute electricity in a reliable, sustainable way; helping improve energy efficiency and modernize existing infrastructure, and providing support to small and medium companies.
Garcia underscored the importance of the CAF-OFID agreement, pointing out that partnerships such as this enhance the capabilities of both institutions for investment in development while allowing CAF play an important catalytic role in attracting the resources, knowledge and experience of other regions to Latin America.
The mission of the Development Bank of Latin America (CAF) is to promote sustainable development and regional integration by financing projects in the public and private sectors, providing technical cooperation and other specialized services. CAF was established in 1970 and currently consists of 18 countries-- 16 from Latin America and the Caribbean, along with Spain and Portugal--- and 14 private banks. CAF is a major source of multilateral financing and an important source of knowledge for the region. Additional information can be found at www.caf.com.