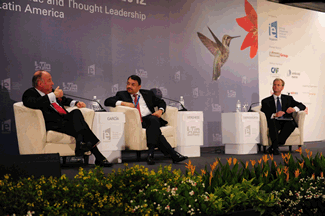 CAF Encourages Singapore to Invest in Latin America
(Singapore, October 12, 2012) – Asia – Latin American ties continue to strengthen amidst a growing interest among entrepreneurs from both sides of the ocean to expand their operations and, according to Enrique Garcia, chief executive of CAF, the development bank of Latin America, "CAF is uniquely positioned to help boost not only trade and investment in Latin America, but also generate a rich exchange of experiences and expertise related to infrastructure, urban planning, logistics, innovation, productivity and governance."
Asia and Latin America continue to foster strong bilateral investments, with 2011 trade reaching a total of over $440 billion. Next to the U.S., Asia is Latin America's largest investment partner.
Garcia touted the emerging regions' growing opportunities during his keynote speech at the recent Latin Asia Business Forum where he discussed how the Asian and Latin American economies have had significant sustained economic growth in recent years, which has enabled them to mitigate the consequences of the current global economic downturn.
However, Garcia strongly believes that it is up to the younger generations to seize the momentum and become catalysts for delivering sustainable growth. That is why CAF and the Emerging Markets Forum, with the support of the Government of Singapore and the Asian Development Bank, hosted the inaugural meeting of "Emerging Leaders of Emerging Markets", bringing together more than 60 young leaders from 22 countries from both regions to focus on the main political and financial challenges, social trends and shifts in the global balance of power.
"This is the new generation of Latin Americans and Asians who will be running our regions and countries in the near future," said Garcia. "Forums like this one foster a deep exchange of ideas about the key challenges they face today but with a vision for the future so together they can create solutions that are viable and sustainable for the development of our regions."
Organized around task panels, young leaders discussed key issues including visions for Asia and Latin America by 2050; democracy and institutions; South-South cooperation; leaders' role in building more inclusive and affluent societies; job creation, and the use of social networks.
Four common interest areas of critical relevance for both Latin America and Asia were highlighted by participants: democracy and development, good governance, urbanization processes, middle classes and social inclusiveness.
The forum is part of CAF Young Agenda, which includes promoting development projects conceived by young people; an investment and training program for young people at risk; promoting democratic and political values, as well as youth leadership; creating and supporting educational and training institutions; supporting youth networks and specialized publications, as well as setting up the CAF Youth Observatory.
Participants also highlighted how these forums encourage innovation, as well as the prospects for emerging markets to become major engines for global growth; the importance of developing a long-term, pragmatic vision as well as strengthening links among the new generation of leaders in business and government.
"Singapore has become an extraordinary venue where, due to its profound transformation in recent decades, our young leaders can learn about its successful process of change, building strong links and professional networks that will be key to their careers," added Garcia.