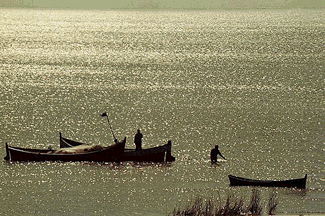 CAF supports development of Lake Merin's Waterway
October 09, 2012
CAF, Uruguay's Foreign Ministry, Lake Merín Joint Committee and Treinta y Tres' Town Hall organized an international seminar to analyze the best alternatives for the development of Lake Merín's waterway.
The forum was attended by Uruguayan President José Mujica and renowned international panelists.
(Montevideo, Oct. 9, 2012). CAF –development bank of Latin America–, Uruguay's Foreign Ministry, Lake Merín Joint Committee (Uruguayan delegation) and Treinta y Tres' Town Hall organized the international seminar entitled
Lake Merín – Cross-Border development, Waterway and Local Actors
. The two-day meeting's goal was to assess the basin's potential and learn its current situation, as well as look into other issues.
Uruguayan President José Mujica attended the event's opening and highlighted the benefits of river transportation in terms of costs and integration, saying that "when there is so much talk about reducing costs, one has to rethink the country and learn from our own mistakes. Today we are in an integration era and we are next to an emerging power that we cannot and must not forget, which signifies a challenge and an opportunity."
Mujica concluded his remarks by emphasizing the value the waterway would have for intercontinental trade.
CAF Country Director in Uruguay Gladis Genua said "the meeting's goal is to discuss all the elements linked to Lake Merín Basin's development and listen to all actors, officials, businessmen and the community in general, in order to set a joint action agenda." Besides, she added, "the waterway's development allows us not only to create or improve the necessary infrastructure for freight in the area towards the domestic and international markets, but also has an impact in border development, in competitiveness in the area around the basin and hence the development of opportunities for the population." Genua said this seminar is part of CAF's policy of supporting nations' development and regional integration.
Treinta y Tres' Mayor Dardo Sánchez said, "The waterway's development will favorably impact trade in the region." He said the seminar "showed the need to move ahead rapidly in completing the necessary infrastructure work in order to facilitate the waterway's navigation."
Sánchez said that many of these initiatives are being completed in the region in terms of productive investments, logistics and services, saying he was convinced that the province must get ready for an era of historical growth.
International panelists included Southern Brazil Waterways' Superintendent José Luis Fay Azambuya; Trevisa Investimentos SA Executive Fernando Becker; Laguna de los Patos and Laguna Merín Operator Representative and Societé Fluviale D'Assurance Member Marc Guian. Participants also included high ranking officials from the ministries of Foreign Affairs, Transportation and Public Works, Housing, and Environment, as well as the National Development Corporation (CND, by its Spanish acronym), the State Railways Administration (AFE), the State Waterworks Administration (OSE), the National Fuel, Alcohol and Portland Administration (ANCAP), and the mayors of Rocha, Lavalleja, Maldonado and Cerro Largo, as well as Mayors' Council President Omar Lafluf as well as Treinta y Tres' mayor, who hosted the forum.