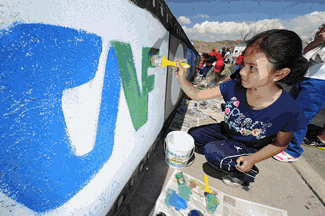 Children fill southern La Paz with color
October 31, 2012
A group of around 1,000 children painted murals on Costanera Avenue, expressing their view for the city's future.
(Oct. 31, 2012).- On Sunday, Oct. 28, around 1,000 children ages 8-12 expressed their creativity and artistic skills by painting the wall of Costanera Avenue in southern La Paz, in an activity organized by the City Hall of the Southern Zone of the city and supported by CAF –development bank in Latin America– with the goal of sprucing up that part of town and giving it a touch of children's art.
Jannet Ferrufino, Deputy Mayor of the Southern Zone, said the project seeks to encourage children and families to be part of the beautification of urban spaces, on a day in which they were able to express their ideas and thoughts on issues of great social relevance, such as caring for the city, environmental conservation and the future of La Paz.
"CAF supported the municipality of La Paz in its goals of city beautification and awareness of major issues such as the environment, community spirit and relations, among others, using for that the purity of children's art," said Emilio Uquillas, Representative Director of the development institution in Bolivia.
Paint of all kinds of colors, brushes and aprons marked this gathering of little artists from 11 small schools of the Southern Zone, who expressed through their creations their desire to live in a clean, safe, modern community withgreen spaces and clean air.