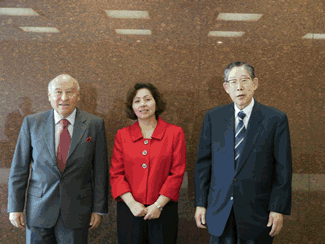 JBIC and CAF signed an agreement to support infrastructure development in Bolivia
October 11, 2012
CAF, JBIC and the Bolivian government met in Tokyo and signed an agreement to strengthen the ties of cooperation with Japan in the areas of infrastructure, environment and natural resources in Bolivia.
(Tokyo, October 11, 2012). - Today in Tokyo, Viviana Caro, Bolivia´s Minister of Planning, Enrique Garcia, chief executive of CAF - Development Bank of Latin America - and Hiroshi Okuda, head of the Japan Bank for International Cooperation (JBIC,) met and signed a memorandum of understanding that establishes the co-financing of development projects in the areas of environment, natural resources and infrastructure, and a staff exchange program for Bolivia.
The tripartite document is based on the Cooperation Agreement that CAF and the Japanese entity signed earlier this year in March, and demonstrates both parties intention to support the long-term economic development and strengthening of commercial activities in CAF's shareholder countries.
At the Memorandum signing, Enrique Garcia highlighted the catalytic role that CAF has played as a driver of the region's relations with Asia, Europe and North America. Through agreements signed with the most important financial and development institutions in these areas, the Development Bank of Latin America has been able to attract new funds to finance projects in Latin America, in this case Bolivia.
Meanwhile, JBIC´s head Hiroshi Okuda stated, "it is a great honor and privilege to execute this Memorandum of Understanding which aims to promote collaboration between the government of Bolivia, CAF and Japan. JBIC established cooperative ties with CAF for over 30 years ago and this memorandum will further strengthen the relations between both institutions, as well as contribute to the work of Japanese companies operating in Bolivia and deepen economic ties between Bolivia and Japan."
The leader of JBIC underlined that Bolivia is one of the most important countries for Japan "I think that Japanese companies will contribute to broader economic development of Bolivia aided by the implementation of advanced technologies."
CAF began its relations with Japan Exim Bank (now JBIC) in 1975. Since then, they have signed eight loan agreements for a total amount of approximately USD 750 million in favor of sustainable development projects in Latin America.
JBIC's mission is to contribute to the sound development of Japan, the international economy and the community through loans and other financial operations to promote imports and exports from Japan or similar economic activities; for the stability of the international financial system; and for social and economic development and economic stability in developing areas; in accordance with the principle of not competing with commercial financial institutions. More information www.jbic.go.jp/english