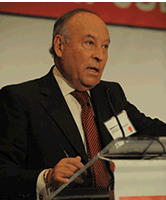 LATAM should be a Strategic Partner for U.S.
Miami, October 26. – In his keynote address, during the opening session of the 2012 Latin Trade Symposium, Enrique Garcia, the chief executive of CAF, the development bank of Latin America, stressed that the region could become a strong strategic partner for the United States, both geopolitically and economically.
Speaking on the topic, "The imperative for Latin America," Garcia pointed out that Latin America is a region "with great potential for investment and stimulating trade with the United States."
To achieve the levels of partnership aimed for, García called for greater regional investment in infrastructure and logistics. "Latin America currently spends less than three percent in infrastructure," he explained. "China invests 10, and the average of advanced countries is between five and six percent, the region needs to exceed those percentages of investment".
Additionally, to overcome what he sees as a growing opportunity that is still "modest in terms of productivity," Garcia called for greater investment in relation to GDP and enhanced savings. "Asia will save 40 percent of their GDP", he said, adding that "To attract foreign direct investment, we must strengthen our institutions and ensure good governance."
According to Garcia's analysis, Latin America should replace its current model of comparative advantage to competitive advantage; moving from natural resources and low wages to knowledge and value-added innovation and technology.
Therefore, considering this, the region should comply with good macroeconomic growth rates, as the region now has "a historic opportunity to make structural changes that enable sustained and equitable growth."
"Latin America is experiencing a 'reprimarization' of its economy, with a high concentration of products whose cycles are very volatile," said Garcia, underscoring the need to take advantage of the situation to promote a long-term agenda that would allow convergence with industrialized countries and fundamentally solve the problem of inequity."
In closing, and when consulted on the U.S. presidential election on November 6, Garcia denied that the results of the election will cause any abrupt changes in the relationship with Latin America. "However, no matter who wins, the mechanisms must be found to give more fluidity to the U.S.-Latin American relationship and take advantage of this opportune time", he said.
The Latin Trade Symposium is a gathering of leaders, entrepreneurs and executives focused on how to build the new Latin America. Other participants of the event included Susan Segal, president of the Council of the Americas; Felipe Larrain, Chile's finance minister and Julio Velarde, president of the Central Bank of Peru.