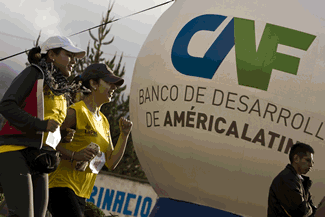 Registration is Open for La Paz 3.600 10K Road Race
October 29, 2012
The fourth edition of the race organized by CAF and the Autonomous Municipal Government of La Paz is scheduled for Sunday, Nov. 11.
Registration deadline is Nov. 7.
Runners in this edition will be given a timing chip.
Special venue at finish for elite athletes.
(La Paz, Oct. 29, 2012).- Registration is open for the fourth edition of the
La Paz 3600 10K
road race. The organizers, CAF –Latin American development bank– and the La Paz Autonomous Municipal Government (GAMLP), are calling on all interested athtletes and amateurs
to register by Nov. 7.
Runners can sign up at any of the following agencies:
CAF Offices. Av. Arce esq. Clavijo Nº 2915 (San Jorge)
Dirección Municipal de Deportes. Edificio Técnico Municipal, piso 11 (Av. Mariscal Santa Cruz esq. Colombia, teléfono 2315012)
Subalcaldía Max Paredes. Calle Max Paredes casi esq. Av. Buenos aires.
Subalcaldía Sur. Calle 12 de Obrajes sobre la plaza Cueto Vidaurre.
The competition –open to athletes and amateurs, men and women– encompasses four categories: runners ages 15-19; runners ages 20-40; runners age 40 and up; and special abilities runners (wheelchair). All enrolled runners will be given a timing chip to clock the exact time they take to cover the 10 kilometers (around 6 miles.)
Racers can register free of charge upon presentation of a birth certificate photocopy or original ID. On Nov. 9 and 10, they will have to collect the assigned bib number, the non-transferable chip and the running shirt (for the first 4,000 participants to show up) on the first floor of Camacho market.
For safety reasons, registration is limited to a maximum of 10,000 runners. For more information, please visit www.lapaz3600-10k.com or @lapaz3600_10K on Twitter and Carrera 3600 La Paz on Facebook.
The companies that have joined the effort to make this competition possible are Grupo Financiero BISA, Coca Cola, AGB, Tigo, Princesa, Hotel Casa Grande, Imagenbol, Amaszonas, Droguería Inti, Extend, Bolsa, Banca y Comercio, El Monocromático, Graftec, La Cuisine and Spazio.