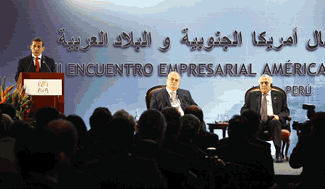 Third ASPA Business Forum in Lima
October 01, 2012
CAF Country Director in Peru moderated the business forum's first panel, entitled "Building bridges: How can infrastructure promote economic growth and competitiveness? Is improving connectivity the best way to bridge gaps?"
Lima, Oct. 1, 2012.- Peruvian President Ollanta Humala Tasso opened today the Third Business Forum as part of the South American and Arab Nations' heads of state and government summit (ASPA, by its Spanish acronym) on Oct. 1-2 in Lima, with the goal of consolidating friendship, trade relations and the alliance between the regions.
CAF Country Director in Peru Eleonora Silva Pardo was the moderator of the first Business Forum panel, entitled "Building bridges: How can infrastructure promote economic growth and competitiveness? Is improving connectivity the best way to bridge gaps?"
The panel's keynote speaker was Lebanese President Gen. Michel Sleiman; the panelists were Morocco's Industry, Trade and New Technologies Minister Abdelkader Amara; DP World President Sultan Ahmed Bin Sulayem; and Chile's Construction Chamber's Public Infrastructure Committee President Carlos Alberto Zeppelin.
After highlighting the infrastructure deficit in this part of the continent and the need to double investments in the sector, Pardo said that CAF –development bank of Latin America– as one of the main infrastructure multilateral financing sources, recognizes this as one of the fundamental and urgent requisites for the region's development.
She said the region's appropriate positioning on the world's competitiveness map requires adequate and efficient infrastructure, which would permit to increase competitiveness levels and improve the population's employment levels and quality of life.
Pardo said the challenge demands plenty of financial resources and advanced technology. She pointed out CAF's catalytic role in attracting resources from other regions –including the Arab countries– contributing to energize Latin American economies, in order to achieve more growth and productivity.
Around 400 Latin American and Arab businessmen will take part in the Third ASPA Business Forum. ASPA's Arab member countries are Algeria, Bahrain, Comoros, Egypt, United Arab Emirates, Iraq, Jordan, Kuwait, Lebanon, Libya, Mauritania, Morocco, Oman, Palestine, Qatar, Saudi Arabia, Somalia, Sudan, Syria, Tunisia, Yemen and Djibouti. Participating South American nations are Argentina, Bolivia, Brazil, Chile, Colombia, Ecuador, Guyana, Paraguay, Peru, Surinam, Uruguay and Venezuela.