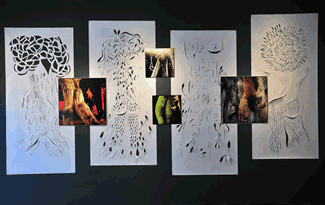 Two artists seduced by similarities between human body and nature
October 16, 2012
Photographer Fernando Cuéllar and designer Marión Macedo intertwine their talent in an exhibit that reveals similarities between trees and human anatomy.
The exhibit opens next Wed., Oct. 17 and will be on display through Nov. 9 at CAF's art gallery in La Paz.
(La Paz, Oct. 16, 2012).- "Semejanzas Sensibles" (Sensitive Similarities), an exhibit by artists Marión Macedo and Fernando Cuéllar, opens next Wednesday, Oct. 17, at
Artespacio
, the art gallery of CAF –development bank of Latin America– in La Paz. The exhibit offers a photographic proposal and work crafted in paper that show trees as the main characters in the discovery of the human body.
In order "to be able to show that the human body is reflected in nature," Fernando Cuellar presents 14 modified photos along with artwork crafted in paper by Marión Macedo.
In the exhibit's opening, Macedo will also present four alternative suit designs from her collection entitled "Fashion on Paper," prepared with recycled materials.
Cuéllar is a renowned Bolivian photographer with more than 30 years of experience. He currently teaches Photography at the Bolivian Catholic University. He has won several prizes in Bolivia, Colombia and Mexico.
Macedo, a fashion designer, carries out the successful "Fashion on Paper" project, begun in 2005 with the goal of offering an alternative in the creation of environmentally friendly clothing, promoting the recycling of paper, plastic bags, CDs and other materials.
"Semejanzas Sensibles" can be viewed through Nov. 9 in Artespacio CAF, on Av. Arce Nº 2915 (San Jorge).