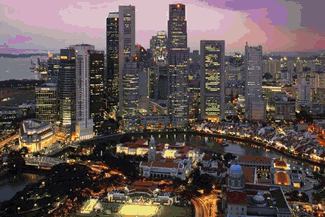 Young Leaders' Gathering in Singapore strengthens Latin American-Asian Links
October 09, 2012
CAF bets on the youth that will run the world in the future as the key for strengthening Latin American-Asian links in a gathering in Singapore attended by 60 young leaders from 22 countries.
(Singapore, October 9, 2012) - As emerging markets are set to catch up with, and then overtake, the largest global economies over the next decades, CAF – development bank of Latin America– gathered in Singapore over 60 young leaders from 22 Latin American and Asian countries to focus on the main political and financial challenges, social trends and shifts in the global balance of power. In other words, the world today's young leaders will face by the time they are running nations and companies from senior positions.
"This is a great opportunity to bring together the new generation of Latin Americans and Asians who will become actors and leaders, running our regions and countries in the near future," said Enrique García, president and CEO of CAF, in his address to the forum, jointly organized by CAF and the Emerging Markets Forum, with the support of the Government of Singapore and the Asian Development Bank.
"I'm sure this gathering has fostered an intense and deep exchange of ideas about the main challenges the youth faces now and will face in the future, to ensure sustainable growth and development in our regions", García said..
Organized around task panels, the young leaders discussed key issues including visions for Asia and Latin America by 2050; democracy and institutions; South-South cooperation; leaders' role in building more inclusive and affluent societies; job creation, and the use of social networks.
Four common interest areas of critical relevance for both Latin America and Asia were highlighted by the participants: democracy and development, good governance, urbanization processes, middle classes and social inclusiveness.
This meeting is part of CAF Young Agenda, a program pursued by the development bank for the Latin American youth. The initiative's goals include encouraging development projects conceived by young people; an investment and training program for young people at risk; promoting democratic and political values, as well as young leadership; creating and supporting educational and labor institutions; supporting youth networks and specialized publications, as well as setting up the CAF Youth Observatory.
Participants also highlighted the potential these forums have for innovation, as well as the prospects for emerging markets as major engines for global growth; the importance of developing a long-term, pragmatic vision as well as strengthening links among the new generation of leaders in business and government.
S. Iswaran, minister of the Prime Minister's Office and Minister for Home Affairs, Trade and Industry, and former Philippines President Fidel V. Ramos also gave opening remarks.
Panelists and moderators included former Panamanian President Martín Torrijos; Hiroshi Wantanabe, president of JBIC; Rajat Nag, managing director general of the Asian Development Bank; Alejandro Foxley, former Foreign Minister and former Finance Minister of Chile; Roberto de Ocampo, former Finance minister of the Philippines; Heng Chee Chan, Singapore Ambassador, and Shigeo Katsu, dean of the Nazarbayev University, among other speakers.
"Singapore has become an extraordinary venue where our young leaders, based on the country's profound transformation in the last decades, will learn about its successful process of change, building strong links and professional networks that will be key to their careers," concluded García.