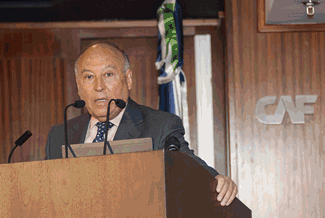 CAF and Korea host Forum focusing on transition to Low Carbon Emission Economies
November 12, 2012
The Korean Embassy in Venezuela and CAF -development bank of Latin America- organized the regional forum Green Economic Cooperation for the Sustainable Development of Latin America.
(Caracas, Nov. 12, 2012).- The Embassy of the Republic of Korea in Venezuela and CAF -development bank of Latin America- organized the
Green Economic Cooperation for Sustainable Development
forum, held on Nov. 7 at the multilateral agency's headquarters in Caracas.
During the opening session, Korean Ambassador to Venezuela Joo-teck Kim and CAF President Enrique García presented an overview of the opportunities and challenges in the transition to low carbon emission economies.
In this context,productive transformationnwas defined as the process of structural change in traditional systems of production of goods and services, aimed at improving efficiency and competitiveness in production chains, with a vision of sustainability or balance in the financial, economic, sociocultural and environmental dimensions. The process involves changing production innovation, technological development, industrial restructuring and social inclusion to strengthen productive chains and generate greater added value.
Mr. García said "productive transformation is an imperative in the transition towards a model of sustainable development." For his part, Mr. Kim said "the Republic of Korea will continue to strengthen green economic cooperation opportunities with Latin America."
Forum panels discussed industrial policies, renewable energy policies and management of water resources, regulatory frameworks, innovation and technology transfer, financing mechanisms and the role of development banks.
Panelists included José Luis Curbelo, CAF's Vice President of Development Strategies and Public Policy; Lee Seong-hai, Director of the Policy Development Team at the Ministry of Land, Transport and Maritime Affairs of Korea; Choi Young-cheol, Director of the Center for Global Energy Cooperation at the Ministry of Foreign Affairs and Trade of Korea; Carlos Chanduvi, Director of Latin American Programs of the United Nations; Magaly Álvarez Velarde-Silva, Vice Minister for SMEs and Industry at the Ministry of Production of Peru; Pablo Daniel Muse, external advisor to the Chief of the Cabinet of Ministers of Argentina; Laura Pasculli, Director at the Ministry of Foreign Trade, Industry and Tourism of Colombia; Michael Penfold, CAF's Director of Public Policy and Competitiveness; and Ligia Castro, CAF's Director of Environment, among other speakers.