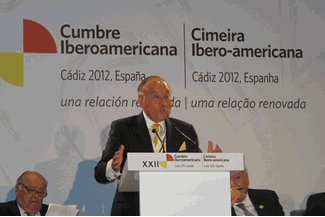 CAF announces programs to boost investment flows and joint ventures between Latin America and Spain, Portugal
(Cádiz, Nov. 19, 2012)- At an annual economic conference in Spain, Enrique García, the President of CAF, the development bank of Latin America, said his institution is introducing programs to boost investments between Europe and Latin America, including investment flows from Latin America to Spain, Portugal and other European markets.
"CAF is making available a $1 billion program, including doubling current credit lines for Iberian banks; a new, direct, financing line for Spain's Official Credit Institute, ICO, to support small and medium enterprises through a range of instruments, loans and warranties, as well as a fund created jointly with the Spanish Agency for International Development Cooperation, AECID, to strengthen capabilities and innovation in order to improve SMEs' competitiveness," García said at the XXII Ibero-American Summit in Cádiz.
"This program's goal is to widen the support for Spanish and Portuguese banks as well as SMEs that start businesses in Latin America, including Latin American companies wishing to broaden operations in the Iberian Peninsula and the rest of Europe," he said. "In other words, it's a two-way program."
CAF will also offer its support through non-refundable technical cooperation through a number of Latin American-Iberian joint venture programs, such as studies on the development and strengthening of Ibero American clusters; a talent exchange program between Latin America, Spain and Portugal; and an investment promotion program for Multi-Latinas in the Iberian Peninsula, in order to turn them into "Multi-Ibero American." Multi-Latinas is a name generally given to Latin American companies with operations beyond the region in at least one or two additional geographic areas, including developed markets, and a minimum annual revenue of $500 million.
CAF's Executive President made the announcement during a business meeting at the Ibero-American Summit on a panel he shared with Spain's Foreign Minister and the heads of the Ibero-American General Secretariat, the Inter-American Development Bank, the Economic Commission of Latin America and the Caribbean and the Organization for Economic Co-operation and Development.