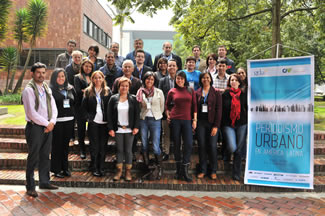 CAF, GDA celebrate 10 years of partnership in gathering with red urbana journalists
November 19, 2012
Both institutions organized a seminar to debate the challenges the urban press faces.
The event took place at Casa Editorial El Tiempo in Bogotá.
Bogotá, Nov. 19, 2012.- More than 30 journalists from different media organizations part of Grupo de Diarios de América (GDA) participated in the
X CAF-GDA Journalism Seminar
at Casa Editorial El Tiempo. The event, titled "Urban Press in Latin America," had the goal of providing tools to strengthen the coverage of major topics in cities and form an urban press network that can create content with its own agenda in the region.
This activity is part of the annual program carried out by CAF –development bank of Latin America– and GDA since 2002, the year this partnership began under CAF's Media Improvement Program. The goal is supporting journalism in the region by creating training and reflection spaces to debate current issues that impact Latin American media and societies.
For two days, reporters and editors from Argentina's La Nación, Colombia's El Tiempo, Brazil's O Globo, Chile's El Mercurio, Ecuador's El Comercio, Mexico's El Universal, Peru's El Comercio, Puerto Rico's El Nuevo Día and Venezuela's El Nacional had the opportunity to share their experiences with specialists in urban, population and media issues. Participants discussed common problems in urban areas, analyzed new initiatives and exchanged concrete proposals to promote quality of life improvements for city residents. Other issues on the agenda were the importance of public policies, the pivotal role media can play in consensus building and solution paths to better cities.
Social networks and communication channels can be employed to face urban life challenges, participants concluded. Public and media support is needed in order to attain that goal.
Latin America is now the most urbanized region in the world due to cities' growth in recent years. On average, 35 percent of poor districts' residents are vulnerable to climate change.
The studied examples were focused on Latin American capitals and big cities that have designed different mechanisms to address common problems: mobility, security, inclusion, equality and urban policies. Cases included first hand coverage by reporters of a pacified Rio de Janeiro favela and how Mexico addresses the drug issue from a health perspective, especially in childhood.
"Red Urbana GDA", a network of journalists covering city issues, was created at the event. The network set a calendar with predetermined topics to monitor urban development in Latin America.